Sunbrite SB-4670HD review: In snow, rain, or heat; you can watch the Super Bowl from anywhere on this outdoor TV
This thoroughly weatherized display proved tough enough to survive a rare California hailstorm and tornado warning, too.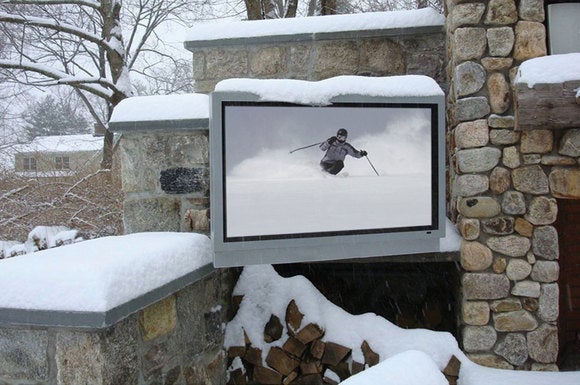 Moving a TV from your living room to your patio to watch the big game is one thing; installing it there permanently—unprotected from rain, snow, insect infestation, and other hazards—is something few of us would risk. But that's just what Sunbrite's SB-4670HD is designed for. This 46-inch, 1080p display can be installed and operated in outdoor locations where it's completely exposed to the elements.
Sunbrite starts with a third-party public information display (PID), an LED-backlit LCD panel that delivers a higher level of brightness to compensate for the fact that it will be installed outdoors, where it will compete with the much stronger ambient light of the sun during daylight hours. The company says it sources its panels from a variety of manufacturers. It then wraps the panel in an outer skin that gives the finished product an IP55 rating. IP stands for ingress prevention, and the first digit indicates how strong the enclosure is at preventing solid objects from getting inside. The second digit rates the level of protection against liquids.
An IP55 rating means Sunbrite's enclosure provides limited protection from dust ingress (and that no harmful deposits will be left behind), and that it delivers protection against high-pressure water jets from any direction (limited ingress is permitted). Basically, you can leave the TV exposed to the elements—including rain and snow—without worrying that water or flying dirt from a lawn mower or leaf blower will destroy it. And when it gets too dirty for a simple wipe-down, you can hose it off. This TV is obviously not entirely hazard-proof, however; a flying rock or an errant baseball could dent the enclosure or—worse—break the panel's glass.
Why the high price tag?
Sunbrite has 4K UHD models in the pipeline, but in spite of its lofty $2895 price tag, the SB-4670HD is a 1080p model. It's not a "smart" TV, either. It's equipped with an ATSC/NTSC/QAM TV tuner; but if you want to stream video from Netflix and other services, you'll need a streaming box. So why is it so expensive? A PID panel clearly costs more than a consumer model, and Sunbrite's weatherized, powder-coated all-aluminum enclosure can't be cheap to fabricate and install, either. In addition to weather, the company warrants that the TV can withstand exposure to salt air and extreme temperatures ranging from 24 degrees below zero to 122 degrees Fahrenheit.
The TV's power cable is permanently installed and emerges from a weather-proof socket on the side of the enclosure. Opening a hinged door on the back of the enclosure, secured by two retention thumbscrews, exposes the TV's cable compartment. I was surprised to see that the door opens from the top, with its hinge at the bottom, and that there's no real provision for the cables to exit the compartment—you just close the door and hope the surrounding foam-rubber gasket seals around them.