Study reveals only 1 in 6 drivers want fully-autonomous vehicles
Drivers also fear becoming motion sick in self-driving cars.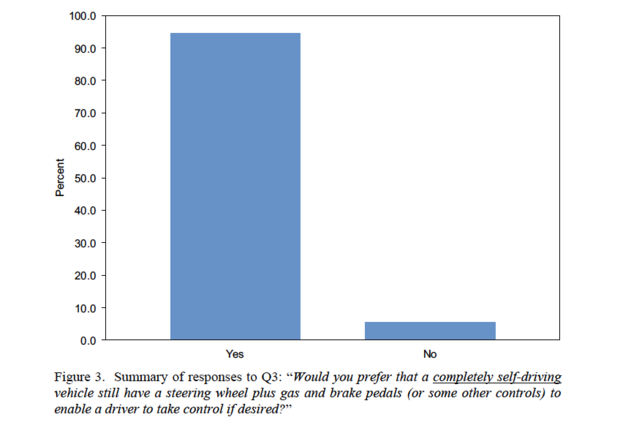 University of Michigan In the University of Michigan survey, the overwhelming majority of dirvers indicated they wanted to maintain some control over their vehicles. Click on chart to enlarge.
In addition to a fear over the loss of vehicle control, drivers cited concerns over motion sickness, which they expected to be more of an issue in self-driving vehicles than in conventional vehicles.
"The reason is that the three main factors contributing to motion sickness [conflict between vestibular and visual inputs, inability to anticipate the direction of motion, and lack of control over the direction of motion] are elevated in self-driving vehicles," the researchers stated in their report. "However, the frequency and severity of motion sickness is influenced by the activity that one would be involved in instead of driving."

Creative Commons Lic. Google's self-driving 'pod' car.
The survey's results indicate that, for example, 6% to 10% of American adults riding in fully self-driving vehicles would be expected to "often, usually, or always experience some level of motion sickness."
Analogously, 6% to 12% of American adults riding in fully self-driving vehicles would be likely to experience moderate or severe motion sickness at some point.