Study: HoloLens could replace PCs as the preferred workplace computer
Businesses are also eager to use fitness trackers for corporate wellness programmes.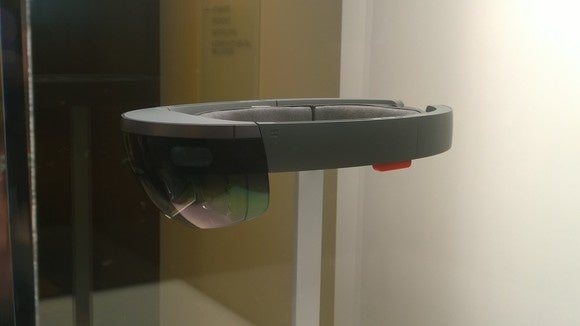 Workers may eventually use a HoloLens headset instead of a traditional Windows computer to communicate with co-workers on Skype or write a report in Word.
That's just one of the predictions from research firm Tractica, which looked at the effect wearable devices will have on enterprises and consumers as the technology becomes more widely used.
Microsoft is pitching its HoloLens augmented reality headset as the next computing platform, said analyst Aditya Kaul in an interview.
All Microsoft software, including productivity apps like Microsoft Office and communication programs such as Skype, as well as third-party apps, could run on HoloLens, Kaul said.
That's due to Universal Windows Platform, which lets developers write their app once and run it on any device that supports Windows. Microsoft has been talking up this feature during the roll-out of Windows 10, its latest OS.
Integrating these apps into HoloLens could result in the headset nudging out a traditional Windows desktop to become the primary workplace computer, the research firm said.
Unlike virtual reality, augmented reality doesn't cut a person off from the real world. Instead, the technology places holograms in a person's natural environment. This would allow a worker to use HoloLens to have an in-person conversation with a remote co-worker or view a 3D model of a building that an architect is designing.
The study didn't give a time frame for when HoloLens could start replacing Windows computers at businesses. Kaul did note that it could be a while before HoloLens is the preferred computing platform since the technology needs to improve features like the field of vision, which has been described as limited.
Microsoft CEO Satya Nadella recently told the BBC that a developer version of HoloLens will come out "within the next year."
HoloLens isn't the only kind of head-mounted display being used at businesses, Kaul added.
Google Glass, which failed to resonate with consumers, has found a niche in certain industries like health care, he said. For example, doctors are using Glass to record patient notes and upload them into medical records instead of writing them down on paper, he said.
Other companies are using smart glasses to provide improved customer service, Kaul noted. Hewlett-Packard, for example, recently started providing smart glasses to customers who purchased expensive industrial printers, he said.
If the printer malfunctions, a worker at the company can put on the glasses and contact HP support. The camera on the glasses allows a support technician to see the printer and guide the customer through repairing the machine, Kaul said.
Smartwatches are also poised to see an uptick in enterprise use, Kaul noted. For now, field technicians, workers who travel frequently and executives interested in having the latest tech gadgets are the most likely employees to use smartwatches like the Apple Watch, he said.