Struck gold: Comparing two Apple Watch Edition try-on experiences
The Apple Watch Edition try-on appointment is just like a regular Watch/Watch Sport appointment, but with more moolah strapped to your wrist.
<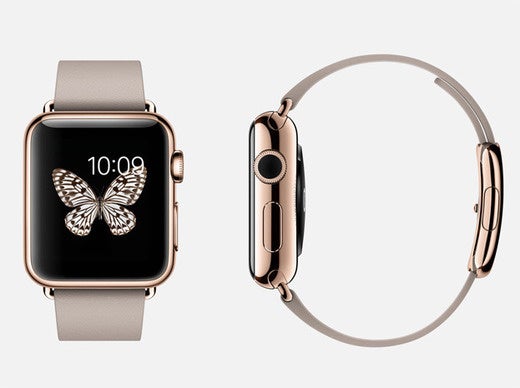 Few can afford an Apple Watch Edition, but that doesn't mean you can't get your hands on one. When Apple started taking preorders for all Watch models last Friday, it also opened up appointments to try them on in person, with a special appointment process for the Edition.
Macworld's Leah Yamshon and Caitlin McGarry tried on all three models in San Francisco and New York, respectively, and compared notes on what the demos are like, how they differ, and which Watch is the best in person.
What we expected
Caitlin: I admit, my expectations for the Apple Watch Edition try-on appointment were high. I've been lusting after the rose gold Edition with rose gray Modern Buckle band for months. I counted all the quarters in my change jar/retirement account to see how close to $17,000 I could get. (Not close, not even a little.) Even though I have no plans to buy an Edition any time soon, or ever, I was looking forward to getting a little taste of luxury at the Edition appointment. I've been in other situations where high-end goods are at stake, like fancy jewelry stores and car dealerships, so I was expecting special treatment. Maybe a glass of champagne. A little red carpet rollout would have been appreciated.
Leah: Oooh, champagne! I mean, my nail salon gives me champagne if I ask for it, so Apple totally could, too. That would have been a nice touch. Good call, McGarry.
Caitlin: I really don't think champagne is too much to ask. Costs as little as $3.99 at some stores. (OK, not the good kind, but still.)
The fanciest part is the cool box that the Edition comes in, as captured by Instagram user @irisdecreus.
Leah: My expectations weren't as high. I read a Business Insider article on Friday that described a lackluster experience at Apple's Covent Garden store in London--so I went in to my own appointment expecting to get to try it on, but not have a lot of my questions answered. I also anticipated a big push to actually buy the Edition from the Apple Store associate. I had this whole internal conversation, rehearsing what I would say if they pressed me for more info about my line of work, how much I make, if I wanted to slap my credit card (ahem, debit card) down for a deposit.
Caitlin: I contemplated renting a fur coat.
Leah: That's a whole separate article: "How to dress for your Edition appointment." Fur, Chanel, perfectly manicured nails, the works.
Caitlin: I blew this opportunity by wearing a backpack to my appointment. So not rich.