Stratasys unveils mega, robotic 3D printers to build large parts
Both printers are capable of using composite materials, such as carbon fiber
By flipping an FDM 3D printer on its side, Stratasys was not only able to increase the size of parts, but also achieve speeds 10 times or more greater than traditional FDM technology, according to Garrity.
Stratasys' other new machine, the Robotic Composite 3D Demonstrator, utilizes a material extruder at the end of a robotic arm that can maneuver along a 5-point axis. The printer also has a robotically-controlled print platform that can move along three axes. Combined, the 8-axis robotic printer enables extremely precise builds from virtually any angle, reducing the need for typical support materials, which has dramatically slowed 3D parts production.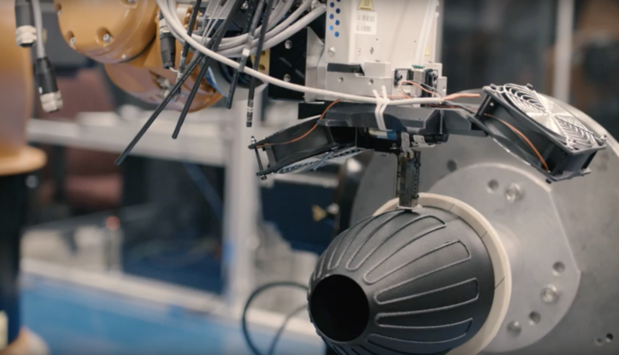 The Robotic Composite 3D Demonstrator adds detail to an automotive parts prototype.
Just as with a desktop 3D printer, the new Robotic Composite 3D Demonstrator is an FDM model and uses a heated extruder head to melt and deposit multiple layers of polymers to create an object. Once the basic part is constructed, a second smaller extruder head on the robotic arm can be used to create fine details.
A major advantage to the Robotic 3D printer is the ability to print across fused layers, adding strength to a part. For example, traditional vertical FDM 3D printers construct an object using a process that creates ribbing that is more easily broken. Multi-axis printing allows the composite materials to move right to left, up and down or diagonally, adding strength.
"Unfortunately, composites production is constrained by labor-intensive processes and geometric limitations," Stsratasys said in a statement. "The Robotic Composite 3D Demonstrator...redefines how future lightweight parts will be built, and provides a glimpse into how this technology could be used to accelerate the production of parts made from a wide variety of materials."