SteamOS beta impressions: Well, Valve did warn you to wait
Valve released a public beta of its new SteamOS operating system last week, but it's not going to replace your Windows installation anytime soon.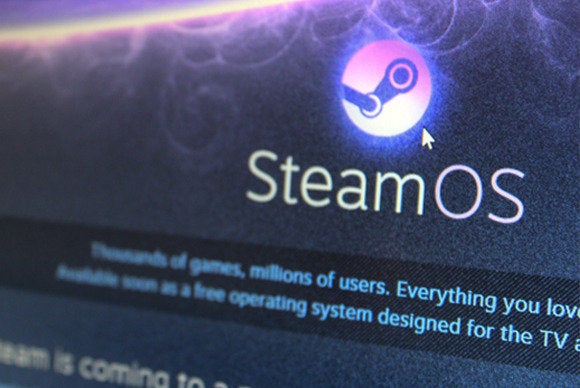 It's out! SteamOS--Valve's living room-oriented operating system created primarily to run games--is finally here, in our office, running on a real machine.
But notice how I didn't say that it's running on every machine in the office. Notice how I also didn't say that it's running on my home machine.
We weren't kidding when we wrote that you might want to wait before you install. Wait for how long? I don't know, yet, but SteamOS as it stands today is rough.
Fun with the install
It all begins with the installation process. As Valve's initial release announcement stated, "Unless you're an intrepid Linux hacker already, we're going to recommend that you wait until later in 2014 to try it out." Installation, while possible, definitely isn't polished enough for the general public.
First we run into the system requirements: Your computer must pack an Nvidia graphics card, because AMD and Intel aren't supported (yet). Also, SteamOS is incapable of living peacefully alongside Windows--the installation wipes any existing drives. You have to use a special drive and (optimally) a separate computer to run SteamOS at the moment.
Then there's the pesky, UEFI-enabled motherboard requirement. Reddit user FrostyCoolSlug outlined steps for circumventing the requirement if your motherboard is stuck with BIOS, but it's a lengthy process. (There are also instructions for installing the OS on a virtual machine here--credit to Steam user rebelholic.)
Even if you are using a UEFI-enabled motherboard, prepare for some fun. The Asus motherboard in my machine was locked to Windows by default, and it took me far too long to figure out why the computer wasn't recognizing the bootable USB stick I'd made. Eventually I uncovered the option to turn off Windows-only protection--it was hidden beneath three submenus--but it can trip you up if you're only used to installing Windows.
I went with the 960MB, "harder" method for installation (it uses the Debian installer instead of a System Restore) because I'm a masochist. Once I figured out my UEFI issues and installation started, the pain subsided. I opted for Automatic Install, but there's an Expert Install if you like micromanaging what's on your computer. Installation took approximately 20 minutes, all told.
Getting started
Next you have to log in to the computer's "steam" user. Though Valve's FAQ lists the "steam" account as predefined, the system won't tell you it exists. Just type steam for both the username and the password, and you'll be in. Also, make sure you're logging in with Gnome, not Default Xsession.
Here I ran into my next bit of confusion. Valve's FAQ tells you to run Steam once you've logged in, but the "Return to Steam" shortcut on your shiny new desktop does nothing. Later on, this shortcut will be used to swap from Desktop mode to Steam Big Picture mode, but you need to ignore it for now.