Startup Flex Logix aims to score big in a niche chip market
Flex Logix will come out of stealth mode with a new type of FPGA chip to speed up specific applications.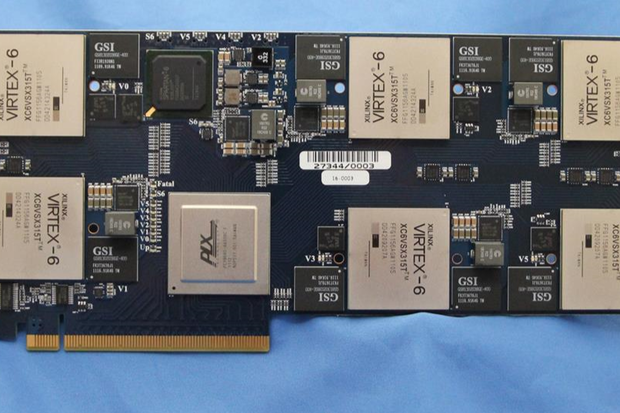 Microsoft uses FPGA chips, such as these from Xilinx, in data centers to quickly deliver more relevant Bing search results.
In Silicon Valley, where software startups are the rage, it's unusual to see a new hardware company set up shop. But venture capital-backed chip design company Flex Logix has some big ideas about how to speed up a whole range of software applications and hardware.
Flex Logix is establishing a business around FPGAs (field-programmable gate arrays), which are reconfigurable chips that can help hardware run specific applications faster. A notable FPGA user is Microsoft, which has implemented the chips in data centers to quickly deliver more relevant Bing search results.
PCs and servers today run on general-purpose processors like CPUs, but FPGAs are different, with functionality defined mainly through software on the chip. Flex Logix claims it has designed a new type of FPGA, which it hopes will be used in networking, telecommunications, servers, military equipment and other hardware.
The company says its EFLX FPGA has a different topology that makes it faster and more power efficient than rival products. As a result, hardware will run faster, and software upgrades on FPGAs to the latest technologies will be easy, company officials say.
The economics of the chip business relies heavily on capital, especially for companies like Intel, Advanced Micro Devices and Nvidia, which spend money on designing and making chips. Flex Logix will not make chips, but instead license its FPGA cores to chip makers who ultimately get physical chips made through factories, said Geoff Tate, CEO of the company.
The business model of Flex Logix is closer to that of ARM Holdings, which doesn't make physical chips, but instead licenses its processor designs to mobile chip makers.
"There's very little interest in funding chip companies," said Tate, who was formerly the CEO of computer memory company Rambus, which also generates a majority of its revenue from licensing. That's why the company put together a business model that didn't require a lot of capital.
The FPGA market is a small slice of the overall semiconductor market. By itself, the FPGA market was worth US$5.4 billion in 2013, and could reach $9.9 billion by 2020, according to Grand View Research.
Flex Logix faces the challenge of uprooting Altera and Xilinx, which are leaders in the FPGA market. But Tate claimed EFLX FPGAs are faster and have more power-efficient design than rival products.
Flex Logix uses a hierarchical network with a central bus connecting all logic blocks, which is different from a mesh network of interconnected blocks typically used in FPGAs. The central interconnect in EFLX moves data faster, which helps execute tasks faster while reducing power consumption, Tate claimed.