Sony's Xperia Z is the Aquaman of phones
Waterproof, dust-proof, and beach-ready: Neither sand nor surf nor bright sunlight can stop Sony's new Android phone.
If I had a dollar for every time I explained the ol' "dry it out in a bag of uncooked rice" trick to a friend who had dropped his or her smartphone in various bodies of water, I could buy several bags of rice—even the fancy kind for making sushi. And if I had the waterproof Xperia Z smartphone from Sony, I wouldn't have to waste that fancy rice saving my soaked smartphone.
Totally touchable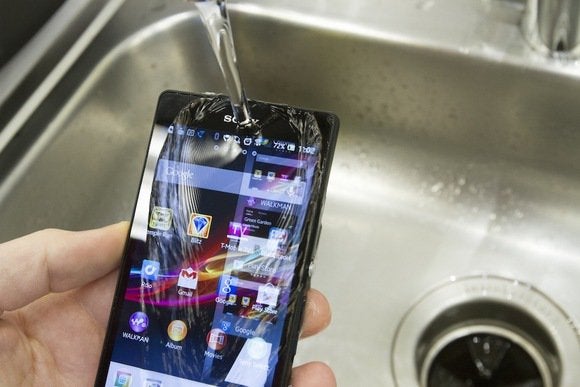 Sure, nearly any smartphone can be waterproof if you ensconce it in a thick, ugly, waterproof case. But the Xperia Z is as stylish as it is splash-proof—it feels substantial and light at the same time. The glass front and back (each with a "shatterproof film") make the Xperia feel more high-end and expensive than the Galaxy S4 with its plastic chassis. At 5.47 by 2.79 inches, it's just a hair bigger on each side than the Galaxy S4. Both are 0.31 inch thick, but the Xperia is over half an ounce heavier at 5.15 ounces.
The Xperia's rubbery edges make it comfortable to hold and give the device some grip—it's much easier to hold onto than the slippery glass-and-aluminum iPhone 5. The round metal power button fits neatly under your thumb when you hold it in your right hand, which helped one-handed operation feel more natural than I'd expected on a 5-inch screen. But the plastic volume up/down rocker switch below it felt less luxurious and was easy to bump by accident when holding the phone while watching videos—I kept inadvertently covering the single speaker on the corner below the volume switch with my finger, too.
The rest of the ports aren't visible, unless you have the eyesight of Sam the Eagle. The headphone jack, Micro-USB charge/sync port, microSD card slot (which handles cards up to 64GB to expand the 16GB of built-in storage), and micro-SIM slot are all covered with tiny panels that sit flush with the rest of the chassis except for a small ridge that you use to pry them open with your fingernail. All are labeled—if you consider dark gray text on a black background "labeled"—except the Micro-USB port, which stumped three out of four phone geeks in our random yet unscientific sampling, sending us to the directions for a diagram of where to plug in the charging cable.
Just add water

Anyway, the port covers are worth the hassle of opening and closing, since the Xperia is certified to the IP55 and IP57 standards for being dust and water resistant—it can even be fully submerged in up to 1 meter of water for up to 30 minutes.