Sony says PlayStation 4 hardware is 'supercharged'
New features in Sony's upcoming gaming console will make it easier for users to stream games and share content over social media.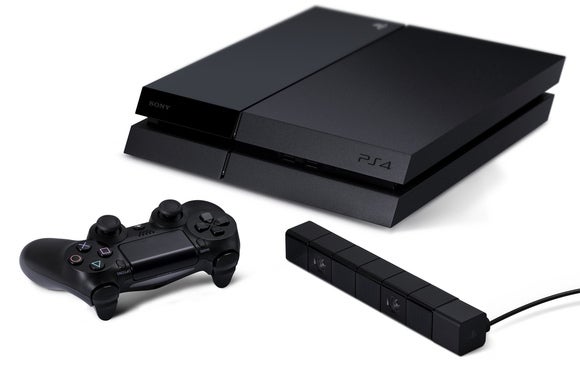 The PlayStation 4 will have a "supercharged PC architecture" and new features that will make it easier to stream games and share content over social networks.
The $399 PS4 will start shipping Friday in the U.S. and Canada, with release in various other countries through December and it will be available in Japan in February. Sony's flagship store on Madison Avenue in New York was displaying signs Wednesday welcoming customers to line up. Advance orders have been strong, Sony said.
Sony tried to simplify the hardware architecture of the PS4 to reduce the cost of the console, while future-proofing it to last as long as 10 years, said Dominic Mallinson, vice president of research and development of Sony Computer Entertainment America, in a webcast keynote speech Wednesday at AMD's Developer Summit in San Jose, California.
The PS4 has eight x86 CPUs code-named Jaguar made by Advanced Micro Devices. In addition, "enhanced" graphics coprocessors, also made by AMD, can deliver 1.84 teraflops of performance.
The game console has a 500GB hard drive with support for Blu-ray. It has 8GB of GDDR5 memory, which is high-bandwidth RAM typically used on graphics cards. More memory was demanded by game developers, so 176 gigabytes per second of bandwidth feeds the throughput, Mallinson said.
There are specialized audio and video chips, and other "fine-grained" hardware features that will take time for developers to master, Mallinson said.
Sony has designed PS4 for a 10-year lifecycle, which is enough time for developers to understand and exploit the available hardware, Mallinson said. Sony also selected standard components and mainstream processors, which drove down the price the PS4. Microsoft's Xbox One, which is scheduled to ship next week, will cost $499.99 and includes Kinect motion-sensing hardware.
The DualShock 4 wireless game controller accompanying PS4 has two new buttons: "Options" for easier navigation of game and console features, and "Share," which makes it easier to share and upload screen shots and video to Facebook and Twitter. The Share button will allow users to broadcast live gameplay sessions through Ustream or Twitter TV, with which Sony has partnered. The new buttons replace the older "Select" and "Start" on the DualShock 3 controller.
DualShock 4 also has a multitouch pad that functions as a button. The controller also has a glowing light bar to clearly identify a player, which is an improvement from the predecessor DualShock 3, which had some "obscure little LEDs" to identify players, Mallinson said.
Sony switched to x86 architecture -- the same used in most PCs -- as the previous Cell processor in PlayStation 3, though advanced for its time, was complicated and expensive.