Six ways to improve the Apple TV interface
Here are half a dozen steps Apple could take to improve the way we browse and watch content from the comfort of our couches.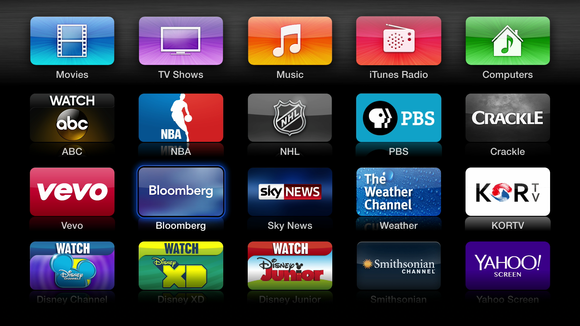 With the recent proliferation of new channels on the Apple TV, Cupertino's set-top box has gone from being a simple way to consume online content to offering an embarrassment of riches. More than 25 streaming content sources are available on the device, and if riding herd on them isn't yet as daunting as scrolling through the channel guide on your cable box, it's approaching that level of complexity.
So it's time for Apple, the company vaunted for its elegance and adroit handling of interfaces, to rethink the way users interact with its living room device—especially if the company hopes to make the living room its next major battleground.
Here are half a dozen steps Apple could take to improve the way we browse and watch content from the comfort of our couches.
1. One search to rule them all
The fragmentation of streaming services today rivals that of the Android smartphone scene. Take Fox's—ahem—dark horse hit Sleepy Hollow, for example. You can watch it the next day on Hulu, buy it from iTunes or Amazon, stream it from Fox's website, or watch it via an app from your cable provider (in some cases). We wouldn't be surprised if you could even have it delivered directly to your brain at this point.
Not all shows are available in so many ways, however. And you don't want to have to browse through a bunch of services before you find the show you're looking for—or end up buying a movie when you could have streamed it on Netflix for free. We need a universal search on the Apple TV that lets users enter—or perhaps even just say (more on that in a bit)—what they want to watch, and have the device show them their viewing options . Even better would be the ability to jump to the right content channel and to start playing the movie or TV episode in question with a single button push.
Of course a few websites—Can I Stream.it? being perhaps the most popular one—already try to facilitate this. Earlier this year, Apple acquired Matcha.tv, a company that provides a similar service, suggesting that this feature might be coming sooner rather than later.
2. Simplified sign-on
The only thing worse than struggling to manage the multitude of content channels on the Apple TV is attempting to keep your login information straight for all of them. You have accounts for iTunes, Netflix, Hulu Plus, maybe your cable provider, HBO Go...cumulatively, more services than you can shake a remote at.
Apple has already tried to streamline the account process by letting you bill certain services—including Netflix and Hulu—through your iTunes account. No doubt Cupertino would be happy as a clam to have you buy all your video services through iTunes, but plenty of users aren't going to do so, or already have accounts at those providers. If Apple could find a way to simplify logins for those users, the Apple TV experience could be a lot smoother.