Simple mobile file sharing grows up: Meet the new wave of phone-to-phone apps
It's 2013, and we carry little computers in our pockets everywhere we go. We live in a world that's more connected and social than ever before. But, inexplicably, we still can't use our smartphones to share our data, files, and memories with each other easily and seamlessly without using email or some type of formal cloud service like Google Drive or Microsoft's SkyDrive.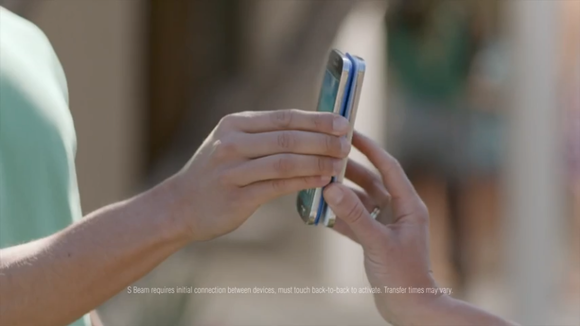 Samsung's TV ads feature S-Beam file sharing. An iPhone user who asks to join in the sharing is told "Yours doesn't do that."
Samsung has embraced mobile sharing too. Known for augmenting basic Android functions with its own proprietary features and services, Samsung built its own file-sharing function, S-Beam, into the Galaxy S IIK and Galaxy Note II phones. You may have seen the expensive TV ads showing off S-Beam file sharing. Samsung's tech works almost identically to Android Beam, but the file-sharing interface is slightly different, and Samsung has added the much-faster Wi-Fi Direct as an alternative to NFC for sending files.
Problems remain
Simple mobile sharing sounds, well, simple in theory, but walled garden ecosystems have prevented the technology from going mainstream. For example, an Android Beam user can't share files with iPhone owners who use AirDrop. And a Bump devotee can't share files with a Phrizbe user. But here's the biggest barrier: Some peoples' phones have mobile sharing apps and features, while others do not. It takes two to tango in the world of peer-to-peer file distribution.
Developers are getting creative in dealing with these problems. To accommodate Phrizbe have-nots, Phrizbe sends files to their email addresses--along with a link to the Phrizbe app (but of course). With the app duly installed on both devices, two data-loving friends can share files with just a few clicks, even if they're on opposite sides of the country.
Still, a major pain point remains: If simple sharing services are to develop mass appeal, they have to enable us to share files and contact information in the wild, with people we've only just met. If a person that you want to swap data with happens to have the same service you do (environment-aware apps like Phrizbe will tell you if that's the case), sharing information is easy. But this doesn't happen very often.
Qualcomm and hopes for a future standard
Clearly, it would benefit everyone--consumers, phone manufacturers, mobile OS companies, the wireless networks, and app developers--if the mobile industry could agree on a simple set of standards. If mobile sharing is to go mainstream, we need a set of common protocols that all operating systems, phones, and carriers can adopt.
Such a standard would be built into phones just as Bluetooth is today. Simple mobile sharing would become mundane, commonplace, and blissfully unremarkable.
The technology right now that has perhaps the best chance of becoming such a standard is AllJoyn, which mobile chip giant Qualcomm is developing. AllJoyn (video) is a middleware platform that enables a mobile device to detect other nearby devices that it can share files with, and then lets it create a direct tunnel (via Wi-Fi) to those devices to move the files.
Previous Page 1 2 3 4 Next Page