Simple mobile file sharing grows up: Meet the new wave of phone-to-phone apps
It's 2013, and we carry little computers in our pockets everywhere we go. We live in a world that's more connected and social than ever before. But, inexplicably, we still can't use our smartphones to share our data, files, and memories with each other easily and seamlessly without using email or some type of formal cloud service like Google Drive or Microsoft's SkyDrive.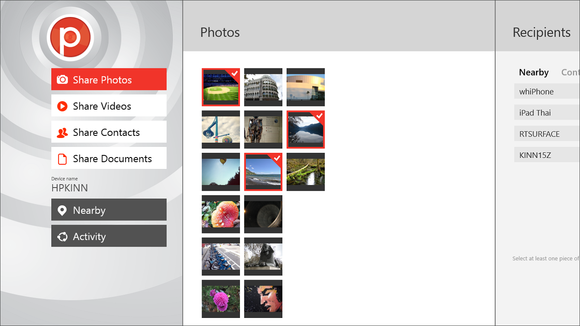 "Our mantra is 'click, pick and share,' and we're obsessed with making sharing from any mobile device just that simple," says Phrizbe president and cofounder R.J. Holmberg. "People need to be able to share from their phone or tablet with no setup and no need to deal with platform or OS walls."
Microsoft was interested enough in the Phrizbe file-sharing concept to work with the company on building a Windows 8 app. The result is a clean and simple-looking app that works especially well on tablets.
On Phrizbe, after you select the contacts, photos, or videos you want to share, and specify the people you want to share with, you make a swiping motion--and the file appears to fly off the screen toward its recipient or recipients. This user interface effect reinforces the idea of throwing content to people much as you might throw a Frisbee. You can see a video of everything in action here.
It started with a Bump
Bump, the category pioneer, defines the first wave of mobile sharing technology. When two phones running the Bump app physically bump together, a remote server identifies both devices, and sends down whatever files the users have asked to share--photos, videos, contact information, or whatever other files they have stored on their phones.
But Bump can't auto-detect other Bump users in a room. And it doesn't send files to more than one recipient at a time, as AirDrop, Hoccer, and Phrizbe do.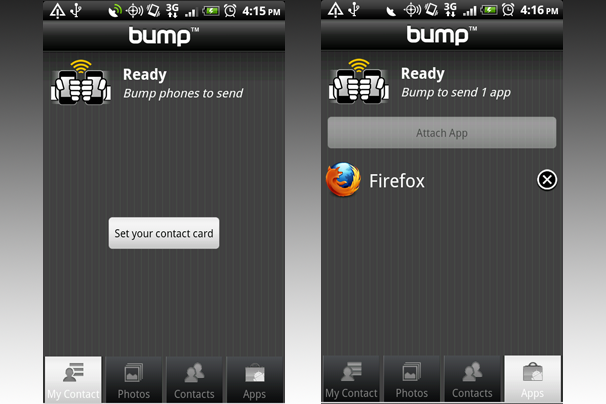 Bump cofounder Dave Lieb says that the company intentionally omitted these proximal and one-to-many sharing tricks from the app. "We could have built a one-to-many aspect into our app, but we really haven't seen compelling use cases that people want to use that for," Lieb says.
Lieb says Bump's simplicity is crucial to its usefulness. "We wanted Bump to be something where you could be done in a half a second," he says. "We wanted it to be so easy, your mother could do it. Most of those other solutions can't promise that."
After Bump, the next big milestone in mobile sharing came when Google decided to add the Android Beam sharing function to Android. Devices running Android 4.0 or later can use Android Beam. When two such smartphones are placed back-to-back, they rely on NFC (near-field communication) to share files with each other. Like Bump, Android Beam can share files with only one other device at a time--but because it does this sharing directly via NFC (and doesn't depend on a network server), it's potentially faster.
Previous Page 1 2 3 4 Next Page