Sidefari review: Split View web browser for iPad is convenient but limited
The cleverly-named Sidefari is an iPad-only app with a singular purpose: To provide a second web browser window alongside Safari's own.
Users can send open Sidefari web pages to Safari by tapping the compass in the upper right corner, or share with compatible apps and action extensions. This worked flawlessly with the aforementioned 1Password, and helps make Sidefari feel more like a native second browser.
While Sidefari is worth the meager asking price, there's still room for improvement. Built-in search would be nice, along with more intelligent handling of text entered without an extension. At the very least, the app should offer shortcut keys for the most common options, so we don't have to hammer out ".com" like a caveman.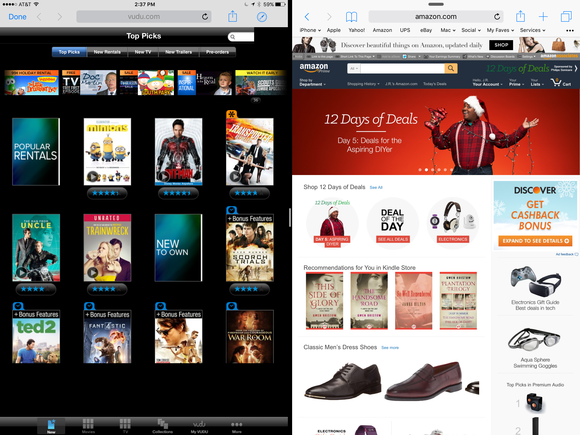 One big downside to Sidefari: Websites like Vudu.com (at left) that default to a mobile version can't be switched to the desktop version.
Bottom line
Sidefari makes side-by-side web browsing a reality for late-model iPads, but lacks most of the niceties of the full Mobile Safari.