Should you get extra lenses for your iPhone?
Adding any lens requires some sacrifice in convenience from carrying around just an iPhone. The big question is: Is the sacrifice worth it?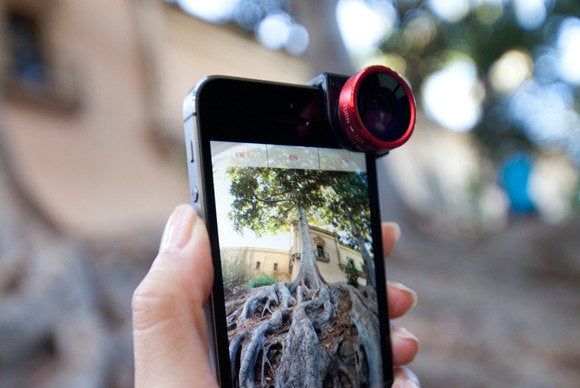 Smartphone cameras have changed the camera market radically in the last five years or so. An Apple ad from about a year back asserts that "every day, more photos are taken with the iPhone than any other camera"; the culmination of this trend, according to numerous analysts, will be the complete "collapse of the point-and-shoot camera."
Count me in. The iPhone is now the only camera I use. That said, while I remain overall satisfied with this decision, I do miss some of the features of my old stand-alone camera—in particular, I miss having a zoom lens. Yes, the iPhone has a digital zoom, but this is more digital trickery than a true zoom capability; it's really not much different from cropping a photo. What I want is an optical zoom, but the holy grail of my search—a small but high-quality zoom lens for the iPhone—sadly does not exist.
There are other options: The next best thing is one or more accessory lenses from companies such as Olloclip or iPro. The available lens styles include wide-angle, fisheye, macro, and (most recently) telephoto. Adding any lens requires some sacrifice in convenience from carrying around just an iPhone. The big question is: Is the sacrifice worth it?

External lenses can let your iPhone get shots it otherwise couldn't take, but they come with trade-offs.
There is no single answer to this question: It varies, depending upon your photographic demands and tolerance for added inconvenience. I had the chance to determine my answer when Olloclip offered me a set of their lenses to review. Before I tell you the results, allow me to back up a bit.
My photographic evolution
There was a time when I owned an Olympus 35mm SLR, complete with several lenses, filters, a flash, a tripod, and more. When traveling, I stuffed all this equipment into a canvas camera bag. For a time, I even owned a separate video camera, dating back to those VHS behemoths that required you rest the camera on your shoulder. Looking back, I can no longer imagine how (or even why) I carted all that stuff around, other than there being little in the way of alternatives if you wanted to capture those moments of your life.
When digital cameras arrived, I traded in all my equipment for a good Canon point-and-shoot camera. It had a 5x zoom and could take both stills and HD video. It wasn't primarily the digital technology that prompted the switch, rather that my photographic aspirations had become more modest over the years. At the time I was mainly taking "memory shots" of family, friends, special occasions, and places I visited. For those tasks, a point-and-shoot proved to be more than adequate—and much more convenient to carry around than the SLR and camcorder.