Should CIOs be chief robot wranglers?
Business Robotic Process Automation (RPA) initiatives can yield huge returns. But bypassing IT can create even bigger risks. Why CIOs need to take a greater role in RPA.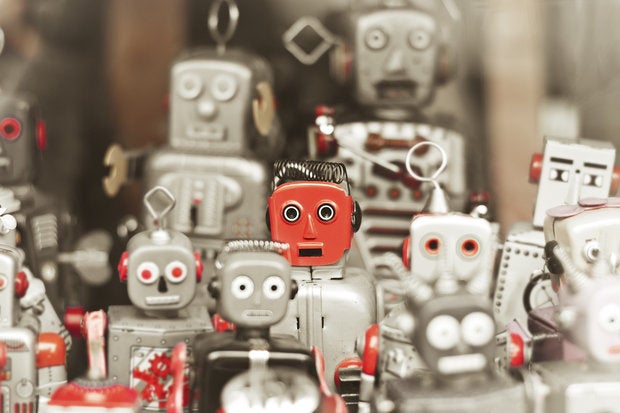 Robotic Process Automation (RPA) is gaining increasing acceptance not just to handle certain IT tasks but also in business areas like finance and accounting, data entry and claims, and invoice and loan processing. Many organizations are looking to these emerging software tools' ability to perform well-defined, repetitive tasks traditionally performed by human workers as the next big source of corporate cost cutting and productivity improvements.
In many cases business leaders are bypassing IT when implementing RPA initiatives, say Mark Davison, a director in the RPA practice of outsourcing and technology consultancy Alsbridge. In some cases, IT is not seen as a critical stakeholder since the service automation efforts tend to focus on process discipline and subject matter expertise, rather than on programming skills. In addition, business decision makers may see IT involvement as a potential roadblock or slowdown to their operational improvement initiatives.
However, these RPA systems do require a level of IT support and involvement to ensure performance. Lack of CIO involvement in business RPA projects them can lead to the typical risks of any shadow technology project—disconnected technology, performance issues, security lapses, and decreased business value delivery.
CIO.com talked to Davison as well as Dr. Mary Lacity, professor of information systems and the University of Missouri-St. Louis's College of Business (and co-author of Service Automation: Robots and the Future of Work with Leslie Wilcocks) about the case for increased CIO involvement in RPA initiatives.
CIO.com: How important will RPA initiatives be to companies in the near future? Why?
Dr. Mary Lacity, University of Missouri-St. Louis: RPA is still in the early adoption phase. Our survey research revealed low RPA adoption levels in 2015, but a quick uptake in 2016. The business value of RPA is so compelling that growth will accelerate.
Our case research on 14 early adopters of RPA revealed that all 14 companies achieved triple wins with RPA—wins for shareholders in the form of positive one year returns on investment, wins for customers with better and faster services, and wins for employees who were freed from dreary, repetitive tasks to focus on tasks that required problem-solving skills, creativity, and social interactions.
Mark Davison, director, Alsbridge: Businesses are recognizing the benefits [of RPA]. The most apparent is cost reduction: a robot that costs $10,000-$15,000 a year to implement and maintain can, in many cases, replace five to 10 humans. But in many cases other benefits are more important. For example, robots produce work that is more dependable, accurate, documentable, and auditable. This helps improve process consistency as well as regulatory compliance, which is critical to highly regulated industries such as banking and pharma. With robots in the environment, transactions also get processed more quickly, which means more efficient payments and logistics. And, robots enhance analytics through their ability to rapidly process and collect huge volumes of data, which is a boon to industries such as healthcare and retail seeking to leverage big data.