Shoot and share video without Instagram and Vine
The two blockbuster apps get all the buzz, but these 9 alternatives are as creative as an art-house indie.
Videos are the new snapshots, as long as they're painlessly quick to shoot and share. It's all too easy to focus on the tools with the most buzz—ahem, Instagram and Vine—but there are lots of better choices, many of them free. They offer more creative options, and some extend the fun with in-app purchases, yet they excel in the ease-of-use department. Want to break free of the crowd? Check out some of these quick-video alternatives.
Montaj—iOS (free)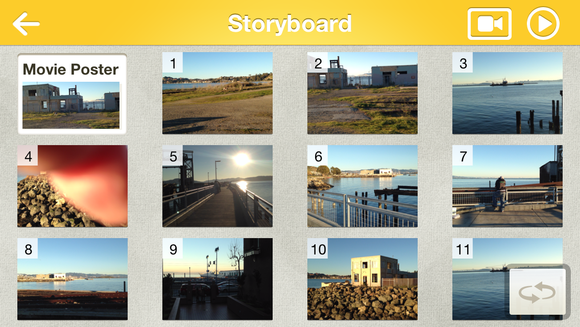 Montaj rejects the notion that when it comes to shooting, more is better. Indeed its premise is the opposite: Shoot less—much less—and then combine a bunch of up-to-five-second clips into a compelling video.
As its name suggests, Montaj facilitates creation of classic montages. You order your clips on a storyboard, add music and filtered effects, and then shake the phone—and the app reshuffles the clips for you in a visually strong arrangement. Don't like it? Shake again to get a different order. That's all there is to it. Shoot a variety of quick clips, shake, stir, rinse, repeat. Unlike Instagram and Vine, Montaj lets you import existing clips from your camera roll, rather than having to shoot them inside the app. When you're done, share the result with your favorite social networks or the Montaj community.
Keek—iOS, Android, Windows Phone (free)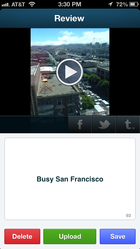 Keek (rhymes with peek) is a Scottish term meaning "quick look"—perfect for a social network dedicated to video sharing.
Keek differentiates itself from Facebook, Twitter, YouTube, and other popular sharing platforms by focusing on short, personal videos. A keek can last up to 36 seconds, and you can upload it directly from your smartphone or from the webcam on your computer. You can reply to a keek with text or video comments—called keekbacks—and share your videos via Facebook, Twitter, Tumblr, email, and SMS. An embed option lets users post their keeks to their blogs or websites, too.
1TapVideo—iOS ($1)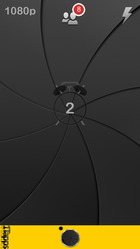 If you chronically suffer from fingeritis—that panicky, in-the-moment confusion about which button to tap—you can rely on 1Tapps's 1TapVideo to take charge of your hand-eye coordination. Just tap the app's friendly, bright-yellow icon to launch it, and that's it. The app counts down from 3 to give you a chance to frame your shot, and then it starts shooting automatically.
When you're done, simply tap the lens icon to stop the recording. You'll find your video in the camera roll. 1TapVideo doesn't have much in the way of customization options—there's no zoom or focus—but its utter simplicity is the whole point. While you're shooting, you can tap the flash icon to toggle your iPhone's flashlight on and off. And in your iPhone's Settings app, you can adjust the shooting resolution—to 144p (192 by 144), 360p, 480p, 720p, or 1080p HD—and even choose to have the app quit as soon as you stop the recording. 1TapVideo has no built-in sharing, relying instead on the sharing options in iOS's Photos app: email, SMS, and YouTube.