See ya, SMS: Social messaging apps do more, for free
Social apps combining messaging, games, and stickers are already huge in Asia—and quickly growing in the U.S.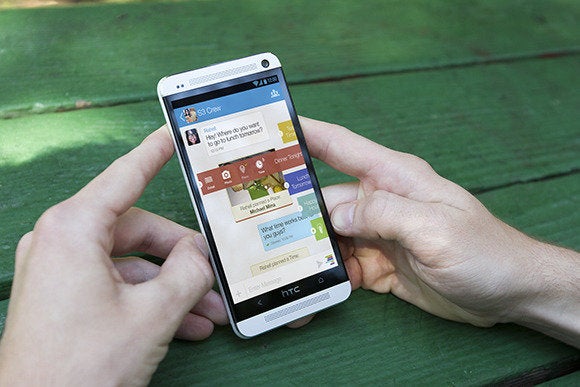 Bryan Pelz was splitting his time between Vietnam and San Francisco when he began working on an idea for a new app called Klamr (pronounced "clamor"). He and his friends overseas had been using various over-the-top (OTT) messaging apps—Line, WhatsApp, and others—to chat with each other for years, but in the United States, SMS still reigns supreme.
Klamr is a brand-new social messaging app for iOS and Android that combines group chats with planning tools and location-based search. If you're planning a birthday party or a happy hour, Klamr will help you rope in your friends, pick a time and place, and hammer out the details.
Klamr and other apps of its ilk represent the next phase in mobile messaging: more visual, more interactive, and—let's be honest—more time-sucking than ever before. Social networks are getting in on the act, too, with Facebook and Path pushing group chats and stickers as a way to appeal to teens.

Path began selling sticker packs after seeing their success in Asia.
What's the appeal?
Over-the-top messaging apps have been growing in popularity for one very obvious reason: They're free. Unlike SMS texts, OTT messages aren't transmitted by your cell phone carrier and don't cost you a dime.
Some messaging apps are focused strictly on messages. WhatsApp, Snapchat, and Skype are dominating the OTT chatting space, and it looks like that will continue. But social messaging is on the rise, led by Asian users and U.S. teens.
"There's a lot of early adopters [in Asia] and a lot of new innovations in the mobile space come out in Asia," Pelz said. "Everyone I know is using multiple messaging apps. [They're] free, as opposed to SMS, but even more importantly, it's just that much more functional and socially expressive than SMS or a bare-bones messaging app like iMessage."
The space's biggest success story, the Japanese export Line, has 230 million users who send each other more than 1 billion stickers a day. That's not messages, just stickers: cute characters with expressive faces that Line's users send to communicate emotions without the strain of typing.
Line has become more of a platform with a roster of apps, like a Facebook-type Timeline for sharing photos and information with friends, a group chat function, a camera, and free games. The company makes money from sticker packs and in-app game purchases.
Line has plans to challenge Facebook for the attention of American users, who may find the app's biggest draws have already been replicated Stateside. Facebook and Path jumped on the sticker train immediately, and other U.S.-based social messaging apps like Tango quickly pivoted from straightforward chat functionality to offer group messaging and games, too.