Secrets of the iOS 7 keyboard
Uncover hidden characters and handy shortcuts with this guide to your iOS device's keyboard.
iOS 7 packs a lot of changes: new icons, new app interfaces, and new features, such as Control Center. But you may not have looked closely at one part of iOS 7 that you'll use a lot: its keyboard. Uncover hidden characters and handy shortcuts with this guide to the new keyboard on your iPhone and iPad. (Note that you'll still see the older iOS 6-style keyboard in apps that haven't been updated for version 7.)
What you see depends on what you need
The iOS 7 keyboard displays different keys depending on an app's function. Messages' keyboard is simple and spare. When you use Mail, on the other hand, you'll see the @ button prominently displayed in the bottom row of the keyboard, so you can easily type email addresses. Before, you had to press the 123 key to get to it.
In Twitter apps, you'll see a keyboard that includes both the @ and # symbols—the former for Twitter usernames, and the latter for hashtags.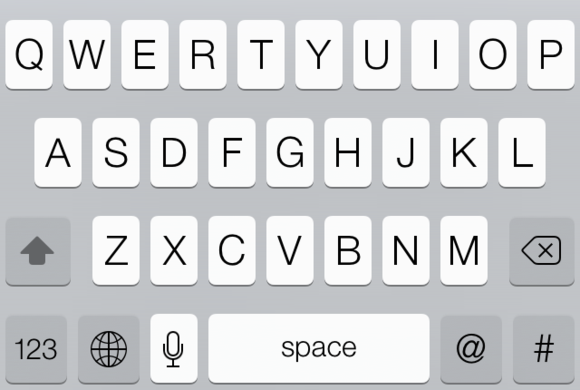 In most Twitter apps, symbols now appear on the keyboard that let you type Twitter usernames and hashtags more easily.
Find Web necessities
Although the iOS keyboard often anticipates your needs, you'll probably be surprised to see some buttons missing. The '.com' key that formerly appeared when you typed, for instance, in Safari's address field, has gone AWOL.
Don't fret; there's still a .com shortcut, you just need to know where to find it. Tap and hold the period (.) key to make a pop-up menu appear. Then, slide your finger up to the '.com' button.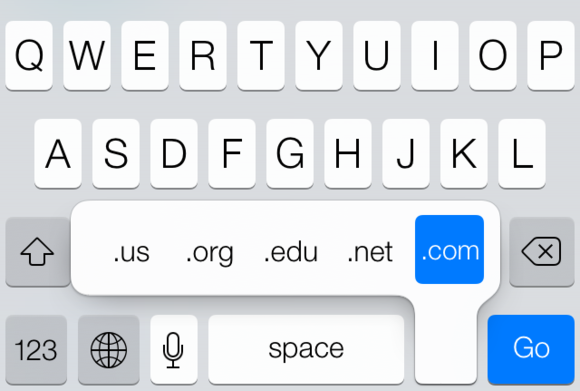 In Safari, the '.com' button isn't far away, if you know where to look.
If your region settings are not set to United States, you'll see different options when you hold the period key: If you're in the United Kingdom, for example, you'll see '.co.uk'; if you're in France, you'll see '.fr'; and so on.
This shortcut isn't new, but it's much more useful now that the direct '.com' button is gone.
Uncover hidden characters
Do you need to type accented characters? How about currency symbols, like the £ or € symbol? There's a quick way to do this. For accented characters, tap and hold the letter you want to type: If you want to produce an é, then tap and hold the E key. You'll see a pop-up menu with a number of accented characters you can choose from. Just slide your finger to the one you want to use, and then release.