Samsung's grand obsession with the iPhone
With the Galaxy S6 and S6 Edge, Samsung believes it has contenders capable of beating Apple's smartphone.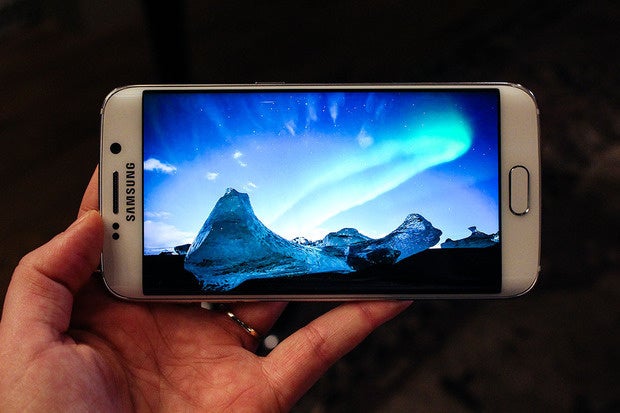 In the Galaxy S6, Samsung has quite possibly the best phone display on the market.
BARCELONA -- Is Samsung obsessed with out-doing the Apple iPhone? Not exactly, but it's a fair question.
Samsung on Sunday announced its new Galaxy S6 and Galaxy S6 Edge smartphones that are made of metal and glass, and without the plastic case that was roundly criticized in the Galaxy S5.
In coming up with design and engineering ideas for its two new devices, Samsung threw out all of its earlier design approaches.
"We called it Project Zero and said, 'let's start from scratch,' " said Shoneel Kolhatkar, senior director for Samsung product marketing for the U.S. in an interview at Mobile World Congress.
"We wanted a premium product with top-notch materials," he added. Both phones incorporate Gorilla Glass on the front and back and have an aircraft-grade aluminum metal edge. They also incorporate Samsung Pay with NFC and magnetic payment capabilities and embedded Qi wireless power for the first time.
Samsung heard from customers in focus groups and elsewhere that concern had mushroomed over the earlier plastic case. It wasn't as if the Galaxy S 6 designers and engineers put up signs that said, "No Plastic!" as they walked into design sessions, but there was a clear direction to stay away from a plastic case.
Ask whether Samsung was obsessed with designing a no-plastic case, Kolhatkar smiled and said, "I won't say so, but we are obsessed with what the customer wants."
Asked if Samsung was obsessed with beating the iPhone, Kolhatkar responded that Samsung always wants "to design a premium product made of top-notch materials." He conceded that Apple and its iPhone have been "good competition," but the Galaxy S6 can help Samsung "emerge as a technology and innovation leader with best-in-class design and best-in-class technology."
Ultimately, customers will decide if the Galaxy S6 or the Galaxy S6 Edge are better than the iPhone 6. There's also the question of whether Apple customers will remain devoted to iOS and whether Android fans will stick with Android's Lollipop OS, factors that matter to brand-loyal customers more than hardware design and quality materials.
Still, Samsung could win some iOS converts with sales of the Galaxy S6 and S6 Edge devices, which could become the phone of choice for first-time, high-end smartphone buyers.
While Samsung sells the most smartphones globally of any manufacturer, Apple's iPhone is still the best seller on the planet. There's no question that the iPhone is the phone to beat, and comparisons with the iPhone came up several times during Samsung's Unpacked announcement Sunday.
In one reference to the iPhone 6, Samsung referred to how the metal in its newest phones is 50% stronger than in other phones and won't be susceptible to bending as "some other phones" --- a clear reference to reports that the iPhone 6 could be fairly easily bent. To that point, Kolhatkar said that the Galaxy S6 and S6 Edge had both been thoroughly tested, including a "butt test," where one of the devices was placed in a rear pants pocket of a lab dummy. The dummy was repeatedly made to sit, then stand, then sit again to make sure no bending of the phone occurred.