Samsung jumps on smartwatch bandwagon with Galaxy Gear
Samsung, it seems, doesn't believe in cultivating an air of mystery for its product launches. The Galaxy Note III and long-hinted-at Galaxy Gear smartwatch will both be unveiled just ahead of the IFA Berlin trade show.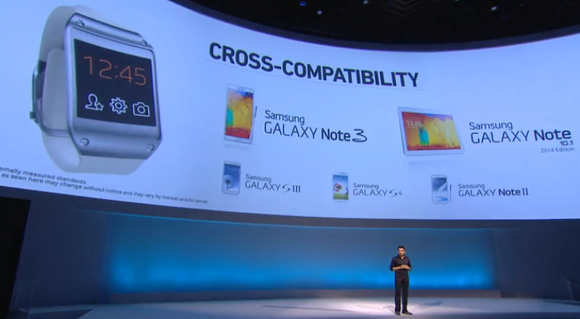 At first, the Gear is compatible only with the Galaxy Note 3 and Galaxy Note 10.1 2014 edition, both announced Wednesday.
Samsung officially announced its Galaxy Gear smartwatch Wednesday, revealing a slick slab of wearable computing that will initially only work with the company's just-announced Galaxy Note 3 smartphone and Galaxy Note 10.1 tablet, 2014 edition.
Limiting the Gear's compatibility to just two niche devices is a curious move on Samsung's part, and suggests the company either wants to goose sales of its Note products, or simply couldn't offer compatibility with its much more mainstream mobile gear at launch. Samsung says Note II, Galaxy SIII, and Galaxy S4 users will get a software upgrade after launch that will allow them to use the Gear.
"I believe it will become a new fashion icon around the world," said Samsung's President and CEO JK Shin at a launch event in Berlin Wednesday.
In terms of raw hardware, the Galaxy Gear is a 1.5-inch by 2.2-inch rectangular slab that's constructed from stainless steel, measures 0.43 inches thick, and weighs 2.6 ounces.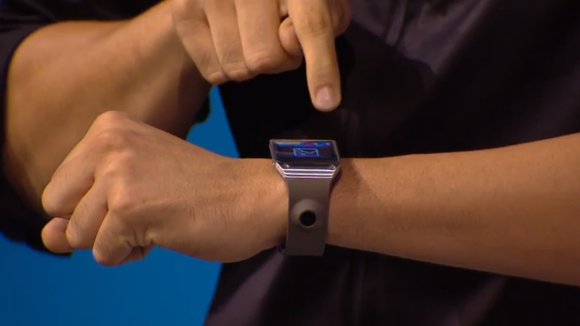 You can control the Gear by voice or by swipe and tap gestures on its 1.63-inch touchscreen.
All data and notifications appear on a full-color, 1.63-inch touchscreen. The Super AMOLED screen boasts a 320-by-320 resolution, and battery life is estimated to last over 25 hours of moderate use before needing a charge. The Gear is powered by a custom 800MHz single-core processor, and includes a gyroscope and accelerometer for physical gesturing and pedometer functions.
The Gear also manages to cram in both a 1.9-megapixel camera and speakers--the camera is integrated into the wrist strap, while the speakers are tucked into the clasp. The Gear features a solitary button, which when pressed takes you directly to the home screen. All other commands and functions are controlled via the touchscreen by a series of swipes (down to launch the camera, sideways to access apps and functions, up to go back).
Raising your Gear-clad hand to your ear enables the call feature. While you can place (and answer) calls using the Gear's on-screen dialer, wrist strap speaker, and two noise-canceling microphones, you can't read or respond to emails--the watch will display notifications but the messages themselves must be viewed on a Note 3.
The Gear can, however, use S Voice commands to call your friends, send texts, set an alarm, and check on the weather. It also features a Find My Device feature, which in conjunction with an Auto Lock enhancement, will lock your smartphone any time the Gear is more than five feet away. It can also make a lost smartphone beep, illuminate, and vibrate so you can locate it quickly.