Samsung HW-H750 Wireless Audio Soundbar review: Tube amp, shmoobe amp
Samsung's Shape M7 wireless speakers give it a strong multi-room audio system, but we can't same the same for this sound bar and wireless woofer combo.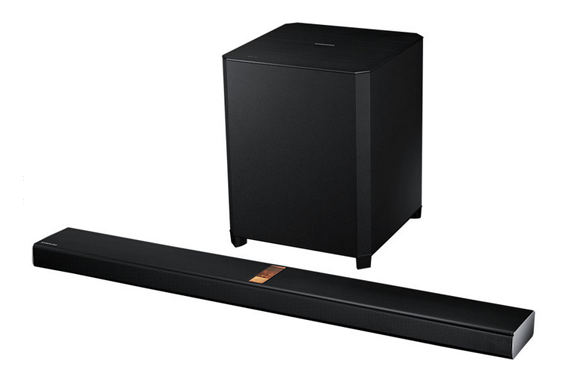 It's hip to be analog these days. Vinyl records are hot. Turntables are hot. Vacuum tubes are hot. So when I saw Samsung was offering a vacuum-tube sound bar, I was intrigued. But then my internal BS detector began to buzz. There's obviously a DAC (digital-to-analog converter) in there; there has to be, because TVs, set-top boxes, Blu-ray players, are all digital devices. But a tube amp? In a sound bar?
Samsung's response to my fact-check query did little to quiet my BS detector. The company declined to answer a bunch of questions about other aspects of the HW-H750 (and the multi-room ecosystem of which it is a part), but they gave this long-winded reply when I asked what the vacuum tubes did:
"The signal is passed through the vacuum tube, which uses a long-lasting heated cathode inside a glass bulb to amplify sound, offering a warmer more natural sound compared to conventional products using transistors."
Right. Warmer, more natural sound is exactly why people love tube amps. And if Samsung had stopped there, I might have swallowed their story and written something like "It's interesting that they're using a tube amp. It doesn't sound very good, but it's cool to look at." But then I read the next sentence in the email:
"The vacuum tube then combines with a digital amplifier, which delivers crystal clear sound and reduces unnecessary harsh sound distortions."
Huh? How does that work? I suppose the audio signal could pass through the digital amp and then into the tube amp, but I'm not sure.
Here's Samsung's response to my second query asking for a more thorough explanation:
"[The signal path] passes through the Vacuum Tubes [sic] first which helps to deliver warmer more natural sound and then it passes through the digital amp to provide detail and clarity."
Okay, I'm not an audio engineer, but if you're passing an audio signal through vacuum tubes and then reprocessing that signal with a digital amplifier, you're going to strip out all the imperfections and micro distortion that gives tube-amplified sound its warm, unique character. You've altered the signal in a way that defeats the whole purpose of using vacuum tubes.
If that's the case, it renders the vacuum tubes in the HW-H750 little more than props for a marketing campaign.
Home theater time
This sound bar can be integrated into Samsung's Shape multi-room audio system, and you can configure Samsung's Wave M3, M5, or M7 speakers as the surround channels in a home-theater setup.
I reviewed the Wave M7 speakers here and went into some depth on Samsung's Shape ecosystem. I am much more impressed with the Wave M7 and Samsung's multi-channel audio efforts than I am with its sound bar.