Samsung Gear S2 review: Stepping back to move forward
The Gear S2 removes features and focuses on refinement, and the result is Samsung's best timepiece yet.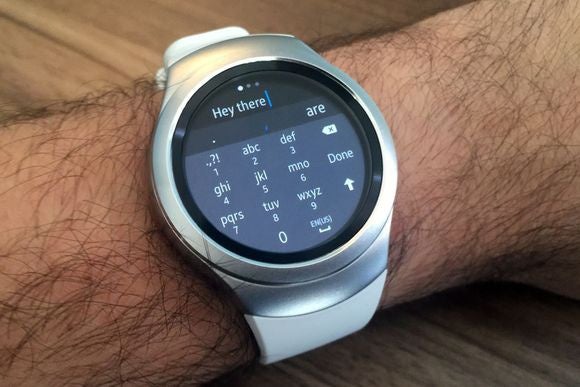 The keyboard isn't a great a primary input method, but useful for editing voice replies.
Perhaps the most important improvement of all is that the Gear S2 works with many Android phones, instead just Samsung ones. There's not even much of a penalty for having a non-Samsung phone, beyond preventing you from checking out at the cash register with Samsung Pay. While there's no iPhone support for now, Samsung has said it's considering the possibility.
Perfection under construction
So far, we've established that the Gear S2 is an attractive smartwatch with a strong interaction model and meaningful software improvements. Why isn't it as perfect as Samsung wants it to be?
Partly, it's because of some little things Samsung still needs to address. For instance, there's no way to remain focused on a particular app or widget when the screen turns off, so you always end up back on the clock screen after a several seconds of inactivity. Notifications are easy enough to dismiss, but there's no way to get them back if you've swiped one away by accident. The process for installing watch apps can also be clunky, sometimes requiring you to install an app on your phone, plus a separate companion app that communicates with the watch, plus the watch app itself.
I've also run into a strange glitch, in which the Gear S2 requires a "light" factory reset when it loses its pairing with my Nexus 5X. This wipes the watch and restores previous settings from the phone, a process that takes five minutes or so and requires you to sign back into a Samsung account. I've yet to hear back from Samsung on why this is happening.
The biggest problem, however, is the lack of apps that take advantage of everything the Gear S2 offers. Not including watch faces, I count fewer than 80 apps in Samsung's store. Of those, maybe a dozen are actually useful. And of those, only a few are optimized for the Gear S2's round display and rotating bezel. So far, I've only found one good app that offers a widget for the Gear S2's home screen.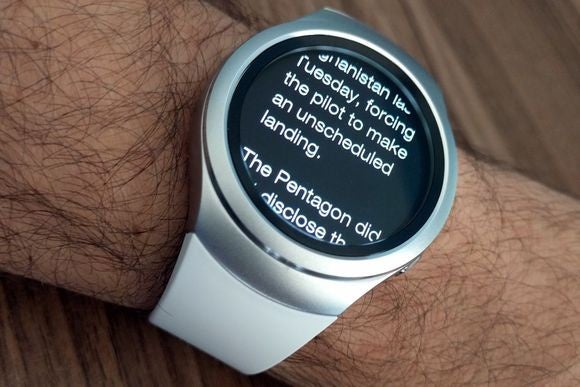 Here's what happens when a watch app doesn't account for round displays.
As a new product, the Gear S2 arguably deserves some leeway on the app front, but keep in mind the Apple Watch had roughly 1,000 apps at launch. Aside from a handful of big-name launch partners such as ESPN, Bloomberg, and Yelp, it's unclear if Samsung will be able to rally developers to its platform. (Wunderlist, Sunrise, Yahoo Fantasy, and Shazam are high on my personal wishlist.)
Previous Page 1 2 3 4 Next Page