Samsung Gear S2 review: Stepping back to move forward
The Gear S2 removes features and focuses on refinement, and the result is Samsung's best timepiece yet.
When you're not actively using the watch, the 1.2-inch AMOLED display remains off by default, which to me looks a bit like staring into the abyss. Thankfully, there's an "always-on" mode that keeps the clock illuminated in black and white. This does carry a significant battery penalty, though: Whereas the Gear S2 lasts roughly two days normally, with always-on mode it just barely survives morning to night at 60 percent brightness.
Twisted system
The Gear S2's raised circular bezel isn't just cosmetic. It also comprises the watch's most unique feature: Give it a twist, and you can scroll through messages, cycle through watch faces or widgets, and control various knobs within apps. You can rotate the bezel endlessly in either direction, each twist moving in 15-degree increments with a satisfying snap.
A cynic might see this bezel as mimicry of the Apple Watch's Digital Crown, but it's mostly an improvement for the way it works in harmony with the software. In Samsung's Tizen-based operating system, twisting counter-clockwise from the main watch face takes you to notifications. A clockwise twist cycles through informational widgets, such as weather, music controls, and fitness data.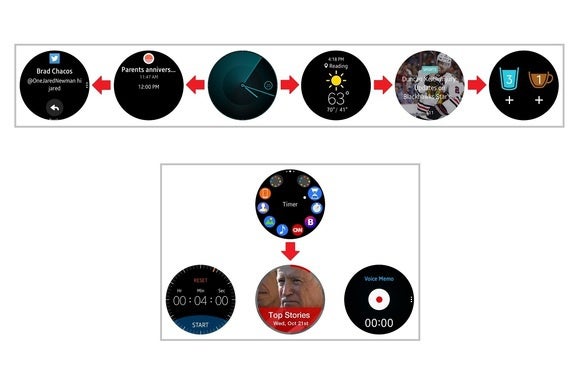 Twisting the Gear S2 bezel cycles through home screens (top). A button on the watch's side opens the app launcher (bottom).
This top-level menu system is often the best way to interact with the Gear S2, largely because the bezel is so fast and accurate at moving between information panes. I rarely even felt the need to dive into the watch's full-blown app launcher or contacts lists. The bezel's only downside is that it's slow at scrolling to the bottom of long emails or lists; in these cases, you're better off just swiping your finger.
All the small things
While the rotating bezel is the Gear S2's big-ticket feature, the software is also packed with little improvements, showing how Samsung has learned from past mistakes.
Animations are fast and smooth now, and notifications are actionable, just like on Android phones. That means you can delete emails, respond to Twitter mentions, or hit snooze on an alarm straight from the watch. Fitness tracking now includes the occasional reminder to get off your seat, and there's a handy home screen widget for counting water and coffee consumption. The only notable omission on the fitness front is sleep tracking.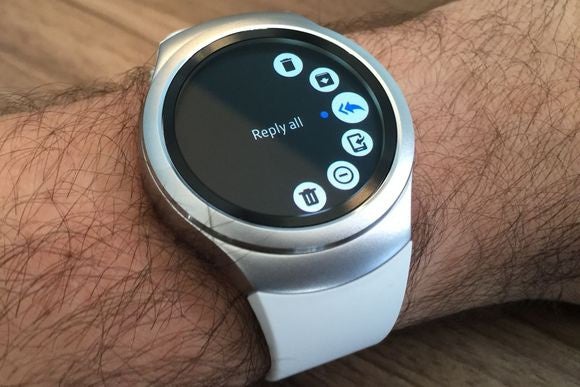 The Gear S2's actionable notifications mirror those of Android phones and watches.
Samsung also took a smarter approach to text input on the Gear S2. Creating or replying to any message now brings up a menu to select voice dictation, emoji, or the keyboard, along with a customizable list of canned responses. Most of the time, you'll want to steer clear of the keyboard—it uses T9 predictive text like you'd find on an old cell phone —but the Gear S2 cleverly lets you invoke the keyboard for minor edits after you've dictated a message by voice. (Just one weird quirk: If you use Samsung's S Voice assistant to create a text message, the keyboard remains unavailable.)
Previous Page 1 2 3 4 Next Page