Samsung Galaxy ATIV SE: A great Windows phone that's really hard to find
What do you get when you combine Windows Phone 8 with Samsung hardware? A wonderful phone with one big problem.
The Lumia Icon has 32GB of storage to the ATIV SE's 16GB, but Samsung's phone has a MicroSD card slot where Nokia's does not. It weighs less: 4.8 ounces for the ATIV SE compared to 5.9 ounces for the Icon. The ATIV SE has a beefier battery, too: 2600mAh, compared to the Nokia's 2420mAh. And the battery in the Samsung phone can be removed and replaced.
Samsung's Galaxy S4, meanwhile, uses Samsung's own Exynos Octa 5410 SoC, along with a PowerVR SGX544MP3 GPU. The Exyonos Octa 5410 pairs an 1.6GHz, quad-core ARM Cortex-A15 with a 1.2GHz quad-core ARM Cortex-A7. But four plus four doesn't add up to an eight-core CPU, because only four cores are active at any one time. ARM's big.LITTLE architecture activates whichever CPU can perform the task at hand most efficiently, in order to preserve battery life.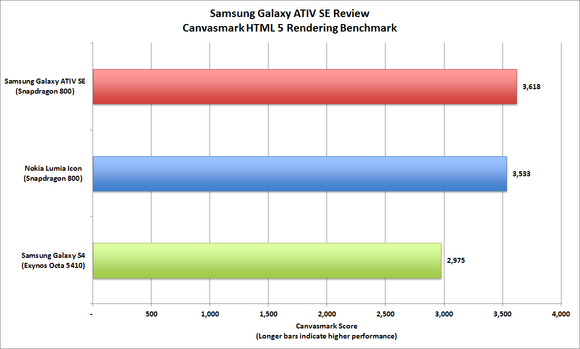 These Canvasmark scores indicate that Qualcomm's Snapdragon 800 SoC has a stronger GPU than Samsung's own Exyonos Octa 5410.
In the benchmarks I ran, the ATIV SE held its own against both the S4 and the Lumia Icon. The ATIV SE delivered the highest Sunspider and Canvasmark scores, indicating superior JavaScript and HTML5 rendering performance respectively, but the differences between its scores and those of the Lumia Icon are small.
The Android phone has a much higher Peacekeeper scores because it uses Chrome, where the Windows Phone 8 devices rely on Internet Explorer. The S4 beats both Android phones in the rest of the benchmarks, although the differences in AnTuTu scores are relatively negligible.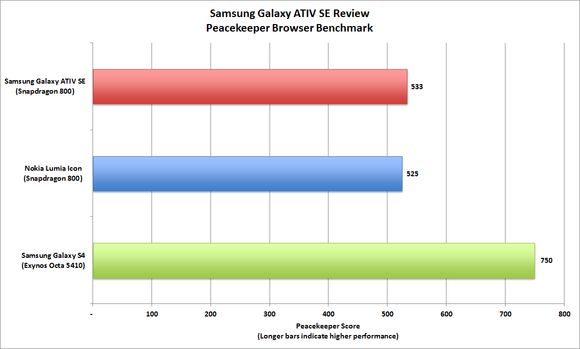 These Peacemaker browser benchmark results, meanwhile, highlight the inferiority of Internet Explorer compared to the Chrome browser.
Camera and Performance
Both the Galaxy S4 and the Galaxy ATIV SE feature a 13-megapixel auto-focus camera with resolution of 4128x3096 pixels, but the S4's camera has a few features the ATIV SE's does not, including dual-shot mode (shooting with both the front and rear cameras at the same time), simultaneous HD video and image recording, face and smile detection, and image stabilization. The ATIV SE also lacks a physical button for snapping photos. As you can see from these photos, however, the two cameras are pretty much even in terms of picture quality. The first photo below was taken with a Galaxy ATIV SE, and the second shot was snapped with a Galaxy S4.
You'll use Windows Phone app for desktop to manage your pictures, videos and music(there's a version for the Mac, too). The app syncs your phone's media to your PC's.