Roost Smart Battery review: This is the best smoke-alarm battery you can buy
Few life events are more annoying than being awakened at 3AM by a chirping smoke alarm. But the alternative—waking up to a house engulfed in flames because you didn't know the battery in your smoke alarm died—is far worse. The Roost Smart Battery neatly solves this problem.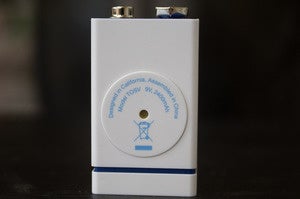 A piezo-electric sensor on the back of the Roost Smart Battery listens for the high-pitched squeal your smoke or CO detector makes when it's triggered. Credit: Michael Brown
The detector relies on the high-pitched sound of the alarm to deform a piezo-electric sensor to trigger its own alarm. I intentionally installed the battery in the smoke detector in my master bedroom because its siren is defective—it makes more of a growl than a high-pitched squeal. But the Roost still went into an alarm state, perhaps after picking up the noise of the detector in the hallway. An alert arrived on my smartphone a few moments later.
If your home loses power, the Roost Smart Battery won't be able to send alerts to your smartphone. The smoke alarm will still function, of course, but you won't hear if you're away from home. My recommendation: Connect both your Wi-Fi router and your Internet gateway into an uninterruptible power supply (UPS).
Should you buy one?
It might seem expensive to replace all your smoke-detector batteries with Roost models, especially if you have a larger home (you should have one in each bedroom, and one in a common area). But this one-time investment isn't much more than you'd pay for a few months service from the typical monitored home-security system, and the cost to replace those batteries in five years will be less than half that amount. It's a no-brainer, really.