Rocking out with Guitar Hero Live and Rock Band 4, two very different rhythm games
Rock Band is back! So is Guitar Hero! We went hands-on with both at E3 to compare and contrast their approaches to a familiar genre.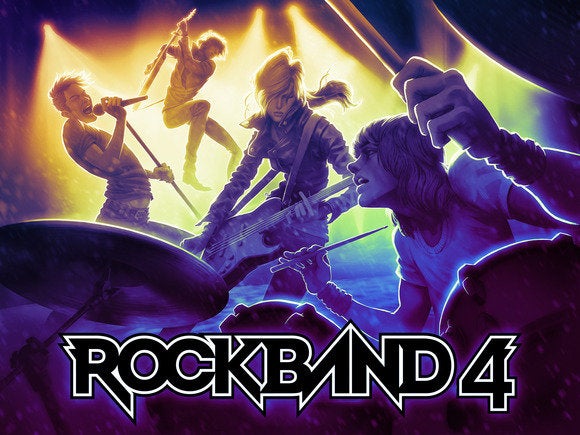 Rhythm games are back. And yes, I mean games plural--like Hollywood's penchant for releasing two extremely similar movies as competitors, both Rock Band and Guitar Hero have decided on 2015 for a reunion tour.
I'll admit--I'm biased towards Rock Band. Why? Because Rock Band 3--for all the fact we were culturally tired of rhythm games--was still a solid title, with an obvious amount of passion behind it. Guitar Hero, on the other hand, steadily self-destructed once it left Harmonix's hands.
And my biases were confirmed at E3, in that I think Rock Band 4 is a better game than Guitar Hero Live. On the other hand, I like Guitar Hero Live a lot more than I expected--due in no small part to its unique guitar. Read on for hands-on impressions of both titles.
Rock Band 4
"This is basically your Last Guardian ," Harmonix's Nick Chester jokes with me before my Rock Band 4 demo. And he's right. It is. I've been waiting for a new Rock Band for years now. Every Chroma demo, every A City Sleeps demo, I'd do the ol' "So...what about Rock Band?" It's basically the only non-PC title I'll give the time of day to. It was easily my most-anticipated game coming into E3 2015.
And now it's Monday night at a Microsoft showcase and Rock Band is here. It's a real thing. I get to play it. Over the course of the next three hours I proceed to wait in line eight separate times to play more Rock Band. I play drums. I play guitar. I play bass. I sing.
There are some changes. Drum fills, for instance. Instead of free-form drum solos, Rock Band now suggests tiny fills for you to play. While it's going to be a lot harder to nail the fills, the whole system now feels less intimidating. There's no more worrying you'll end up out-of-sync during a drum fill and throw off the whole band.
Guitar on the other hand has been opened up a lot. Solos are now completely free-form, similar to real improvisation. You are given a general instruction like "Tap" or "Sustain" (represented by icons inlaid on the note stream) and then you just hit buttons in that rhythm--always in key. Like a harmonica-guitar. It's interesting, although it takes a lot of skill out of certain songs (which is, I assume, why you can turn the feature off and play the normal beat-matched solos if you'd like).
But despite some changes, there is still that old feeling of familiarity. Rock Band 4 is more Rock Band, and that's fine. That's exactly what I want.