Researchers envisage swarms of tiny drones for dangerous rescue missions
The drones will communicate with each other and help figure out what's going on.
Zhang's current prototype mothership drone can fly for about 30 minutes, and cover about 10 miles (16kms), a time and range that he wants to improve. The small drones are all still very much works in progress and the researchers have been working on miniaturizing their payloads so it can fit on smaller devices.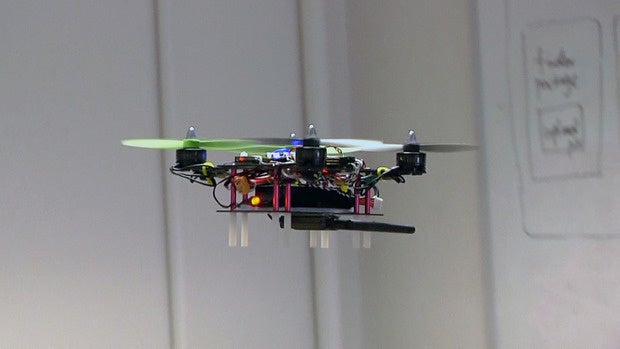 A drone flies through the air during a flight test at Carnegie Mellon University's Silicon Valley campus on July 27, 2015. Credit: Martyn Williams
The group's research is currently focused on giving the small drones a greater degree of autonomy and building up the sensing capabilities of each one.
Zhang thinks it will be about 10 years until the work is out of the lab and lands in the hands of users such as rescue workers, law enforcement and the military.