Report: Microsoft shoveling more dirt onto Windows 8.1 with 'Threshold'
Reports say that Microsoft is pushing the tiled interface on Windows 8.1 further into the background with the next major iteration of Windows.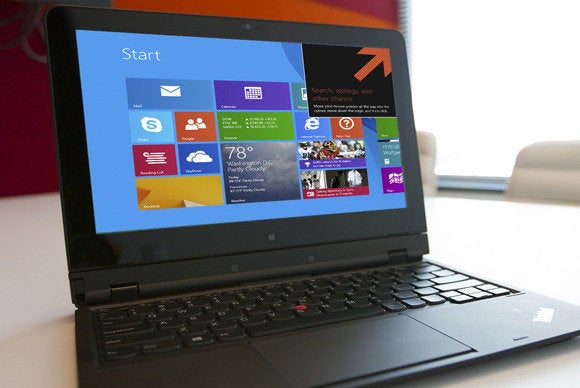 Depending on how you see it, Microsoft is either offering Windows users more of a choice between the traditional desktop and its tiled Start Menu interface—or simply burying it altogether.
In a report released Monday—together with overlapping details from The Verge and Neowin—Microsoft appears to be making the traditional desktop the default interface for "Threshold," the code name for the next major release of Windows due sometime next year. All About Microsoft's Mary Jo Foley reports that Windows will start up differently according to the hardware it runs on: the tiled Start Page interface for tablets, and the desktop--along with a compact, tile-base Start Menu--on mobile devices like tablets.
That release will feature the compact Start Menu that Microsoft publicly showed off at its BUILD conference this past April. Instead of traditional menu icons, a la the Start Menu of Windows XP and Windows 7, smaller Live Tiles will be used instead.
According to the reports, users will have the option of flipping to the Start Menu. And they'll still be able to use the Start Page's "Metro" apps within windows in the desktop, as Microsoft added with its latest spring update, Windows 8.1 Update 1.
Microsoft could not be reached for comment.
Is Windows 8.1 the new Vista?
Some will give Microsoft the benefit of the doubt: Microsoft boldly led users into a modern era of phones, tablets, PCs, notebooks, hybrids, and more—and designed an interface that could traverse the breadth and depth of what hardware makers cooked up within their planning departments. Threshold simply acknowledges that a preponderance of desktop PC users prefer, well, the Desktop interface.
Others, however, will take the opposing view: users never asked for a crazy quilt of tiled icons, each jiggling and shifting and updating—and never for a touch-based interface that required them to take their hands off their desktop. For those, simply shoveling dirt on top of the Metro interface isn't good enough. They want to take that shovel and beat it senseless.
That may happen. Neowin reports that on some desktop PCs, the Start Page will be entirely disabled.
So far, the only information I've been able to glean says that the next update of Windows, Windows 8.1 Update 2, won't really matter, and will be made up of minor updates and bug fixes. If that's true, then the release the industry will be eagerly looking ahead to will be Threshold, which may be called Windows 9.
Metro, you're dead to me
What's amazed me about the last two years or so of Windows releases, however, has been the absolute focus placed on the Windows user interface. Yes, it's absolutely fair to say that the Metro interface came as a shock, and a strategy of "Desktop first, Metro/Modern second" should have eased users into Windows 8 via the familiar desktop, with the "Metro" or "Modern" interface left as an option. But in general, Windows 8 has been a remarkably stable OS, quickly booting into the familiar desktop interface. If anything, only those who bought Microsoft's Surface tablet—a minor player, in terms of sales—have had to wrestle with Metro apps while being toted around in tablet mode.