Report: Leaked Sony Xperia Z5 video shows off 4K screen
It would be the first smartphone with a resolution this high, though whether that's even necessary is a whole other matter.
Sony may be charging ahead with packing in a ridiculous 4K resolution into one of its upcoming smartphones.
A leaked video posted, and later disappearing from, French site Clubic (you can still find it on Xperia Blog) features a Sony marketing director describing a 5.5-inch Z5 Premium, with a 4K screen that crams in 800 pixels per inch with a 3840x2160 resolution.
Sony's also packing in a 23-megapixel camera with a .03 second autofocus and 5X digital zoom.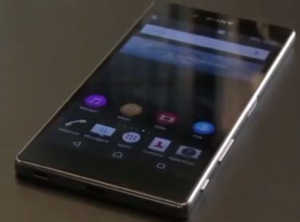 Xperia Blog A screenshot from a leaked video gives a glimpse of the supposed 4K screen.
The phone also continues Sony's dive into water resistance, with a claim the micro-USB connection will also be waterproof.
The Z5 Premium will be part of a family of devices, including the Z5 Compact and Z5. All three phones will have a fingerprint sensor on the power button and share the same camera specs and claimed two days of battery life. However, that last claim looks rather dubious given the 4K resolution in the premium model.
With IFA around the corner, we should have a better handle on how much of this rumor pans out.
The story behind the story: A 4K screen is more marketing than necessity. In declaring the Galaxy Note 5 the current king of smartphone screens, DisplayMate analyst Raymond Soneira said it would be, "...absolutely pointless to further increase the display resolution and pixels per inch (ppi) for a marketing wild goose chase into the stratosphere." At this display size, you can barely tell the difference between 1080p and 2K, let alone 4K.
Instead, real-world display performance in ambient light should be where device makers put their energy.