Replacing Messages: Three alternative apps for iOS messaging
Dissatisfied with Apple's Messages? There are other messaging apps for iOS to choose from. And while they might not be able to completely replace Messages, they could teach it a thing or two.
Messages for iOS is arguably the most-used app on my iPhone: I use it more than Mailbox, more than Camera+, more than Google Maps, and definitely more than Phone. And I'm probably not alone here. Text messaging is an integral part of the mobile device experience, and Messages--specifically its integration with iMessage--makes it a joy to use.
But the launch of Facebook Home for select Android devices made me realize that the way Messages works is a little archaic. Facebook Home's messaging system, called Chat Heads, handles incoming messages with ease. Instead of forcing you to close whatever app you're currently working on to launch a separate app to reply to a message, a small bubble appears as an overlay to what you're working on. Home users are never forced to close one app to launch another, just to send or reply to a text message.
Chat Heads was just released with the latest Facebook for iOS update, so iOS users will have a chance to use this messaging feature from within the Facebook app itself. Chat Heads isn't perfect--I'm certainly not saying that Messages needs to look like Chat Heads in the next version of iOS--but re-evaluating the way Messages functions would be a step in the right direction.
In the meantime, I decided to take three third-party text-messaging apps for a run to see if there is something I like using more than Messages--although Apple's restrictions on SMS and messaging prevent us from ditching the standard app altogether. These three apps function in a similar manner: Messages are sent over Wi-Fi or data instead of as an SMS, so they don't require a monthly plan, per-message fee, or the use of a separate phone number (like Google Voice). As it turns out, the answer is complicated.
WhatsApp: for full-featured messaging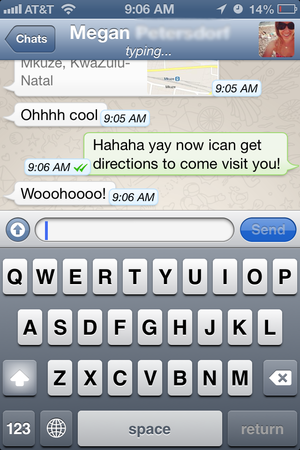 WhatsApp messages follow a familiar back-and-forth thread.
My favorite of the bunch is an app called WhatsApp Messenger. What I like about WhatsApp is that it sends messages over Wi-Fi and data, much like iMessage does when messaging from Apple device to Apple device. That way, I can send text-like mobile messages to friends with any device or any carrier without it eating up my messages limit set by my carrier plan. I can also easily send and receive messages with friends who live outside of the United States.
When you first install WhatsApp, the app will search through your Contacts (if you allow it) to find other WhatsApp users. This is important, as you can only send messages from WhatsApp to WhatsApp--however the app is available for iOS, Android, BlackBerry, and Windows Phone 8, so plenty of your contacts have the app available to them.