Red Team rocking: Build the ultimate AMD gaming PC
Dollar for dollar, there's still a strong argument to be made for AMD processors.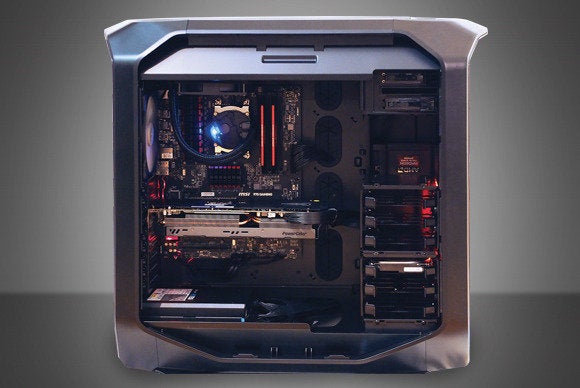 There's never been a better time to be a PC gamer, with an abundance of excellent hardware available. Intel recently refreshed its flagship and mainstream processor lines, and AMD and Nvidia both have killer graphics cards on the market--some of which are going for ridiculously low prices.
As part of a weeklong celebration of glorious PC excess, we've recently put together a pair of ultra-powerful Intel-based systems using that very hardware: An insane Intel Haswell-E Core i7-5960X build featuring Nvidia's powerful new GTX 980, and a drool-worthy Devil's Canyon Core i7-4970K PC paired with a monstrous AMD Radeon R9 295X2 graphics card with not one, but two top-tier graphics processors. Two systems powered by Intel's top chips will get any DIYers juices flowing--but now it's time to give AMD its due.
Intel's processors have been the mainstay of the enthusiast community ever since the company's Conroe architecture hit the scene in 2006 and knocked AMD's Athlon off the top of the desktop processor heap. But while years have passed since AMD's had a desktop CPU that could compete with Intel's best in terms of pure performance, AMD's chips remain competitive further down the line.
Case in point: the AMD FX-9590. The FX-9590 is an 8-core processor, with a base clock of 4.7GHz and a turbo boost clock of 5.0GHz, making it the first desktop processor to officially hit 5.0GHz. In a different time, a chip like the FX-9590 would probably cost a cool grand--and it used to--but in the current landscape, the FX-9590 is only $260. At that price, you can grab the processor and a top-end Radeon R9 290X graphics card for roughly the same price an Intel's eight-core Core i7-5930K 'Haswell-E' processor alone.
So we did. Let's get cracking.
Component selection
Our plan was to use AMD's fastest desktop processor available, so the FX-9590 was a lock from the get-go. The 220-watt processor is a beast in the power department, however, which required some careful build planning.
Using the FX-9590 meant finding a board with support for 220W socket AM3+ processors. AMD hasn't updated its core logic chipsets in quite a while, however, and we didn't want an aging board with outdated technology. Thankfully, MSI recently released a new socket AM3+ motherboard--the MSI 970 Gaming--that's loaded up with 7.1 channel audio, a Killer E2205 Gigabit LAN controller, and USB 3.0. And at $99, the MSI 970 Gaming's price was right.
The FX-9590 will push the limits of this motherboard's VRM, but we aren't planning to overclock the PC and we'll install plenty of cooling to keep the CPU and motherboard temperatures in check. To keep the CPU cool while riding along in the motherboard, we opted for a $79.99 Cooler Master Seidon 120XL liquid cooler. AMD once sold a liquid-cooled FX-9590 bundle, and this was the cooler in the package.