Real-world confessions from Surface RT owners: Who loves it and why
The much-maligned slate actually has its fanboys. We talk to living, breathing people who use Microsoft's low-end tablet PC.
"Now I use my RT for 95 percent of my compute tasks, even more so now that Outlook 2013 [is included] in the 8.1 Upgrade," Roach said via email.
"Maarten," a lawyer living in Belgium, asked that his real name not be used because he wasn't sure if Microsoft Office Home and Student RT allowed for professional use—a testament to the productivity software's utility. "My colleague bought the Surface Pro and it is not good for me," he wrote in an email. "Too heavy, battery intensive. For my main purpose (use for work on the move, and often during long flights or waits in airport lounges) the RT is absolutely the best (for me). I did not suffer from confusion with the 'full' Windows, since I knew what RT was meant to be—and frankly, it is better than what I had expected."
Strengths: Office in a long-life tablet
Of the many Surface RT customers we talked to, only one even mentioned gaming, and just in passing. Instead, nearly all found that the Surface RT delivers on what they bought it for: basic productivity, especially where Microsoft's own apps suite is concerned. And they repeatedly came back to two other strengths: the hardware itself, as well as the usefulness added by Windows 8.1 and its Windows RT flavor.
The fact that users enjoyed using Microsoft Office when they bought the Surface RT for that very purpose wasn't really surprising. But users also pointed to Microsoft's other native apps as Surface RT selling points.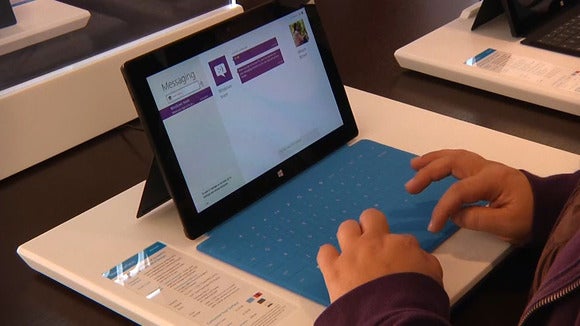 MARTYN WILLIAMS. Microsoft Office is one of the selling points of the Windows RT tablet, fans say.
"I work on Windows 8.1 RT preview, and find it is already a good improvement over the original version 8.0," Maarten said. "The office suite completely met my expectations when working with my Type Cover keyboard. In touch mode there is still significant scope for making it more finger-friendly. Initially, I didn't like the Mail application and was waiting for the Outlook version. In the meantime, with the improvements made to it, I have actually started to like its relative simplicity and speed.
"In touch mode, on the go, the Mail app also works very well," Maarten added. "The input prediction is extremely intuitive and I find that I can form almost entire sentences by inputting at most the first letter of a word. As a lawyer, I am quite a power user of the mail and office apps."
When asked about the Surface RT's strengths, several users tied the device's design, hardware, and apps together.
"I love it for its niche: It's the only portable device that can run Microsoft Word for 10 hours between charges," said Andy Rathbone, who bought a Surface RT as the foundation for his book, Surface for Dummies.
Previous Page 1 2 3 4 5 Next Page