ReadQuick and Velocity: Increase your reading speed using your iOS device
Both Velocity and ReadQuick presen written text one word at a time on your iPhone, iPad, or iPod touch.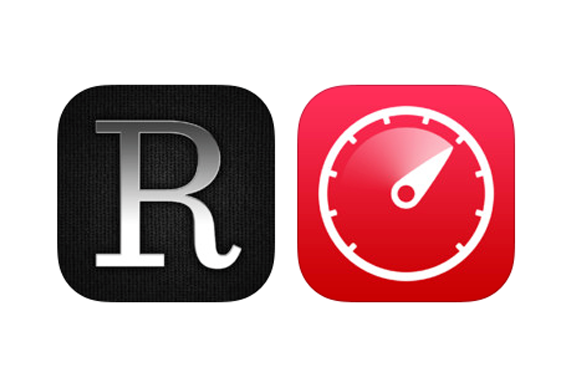 Move over Instapaper, Pocket, and Readability--some new read-it-later iOS apps have arrived on the scene that not only help you read online content later, they also help you read it faster. The $5 ReadQuick by Action Now and Lickability's $3 Velocity do this by helping you break a habit called subvocalization, which is just a fancy linguistic term for silently sounding out words as you read. According to Velocity's short tutorial, the average person reads at a speed of about 200 WPM (words per minute), which is, uncoincidentally, about how fast humans speak. Supposedly, it's the act of subvocalization that holds back your brain's natural ability to process written text at a much faster rate.
Both Velocity and ReadQuick take a similar approach to solving this problem by presenting written text one word at a time on your iPhone, iPad, or iPod touch. If you're like me, you're probably thinking that this sounds a little odd. However, it only took me a few minutes to get accustomed to words flying across the screen before I was sold on the concept. Both apps start out at around 250 WPM and, as the theory goes, by gradually increasing this speed, you eventually outpace your inner voice, which then allows your brain to begin processing text at greater and greater speeds.
Like other read-it-later apps, both Velocity and ReadQuick take Web pages you provide and strip out all the extraneous content. Both ReadQuick and Velocity provide a scaled-down Web browser that you can use to browse and save pages. Velocity also recognizes URLs that you have copied from other apps, such as Safari or Mail. So, when switching back to the app, Velocity will automatically offer to either display the page immediately or save it for later. I especially like this feature since it saves me a couple of steps while I'm browsing content in other apps.
If you're a regular reader of several popular blogs, then ReadQuick lets you browse those partners' sites directly. However, where both apps shine is in their ability to connect to the popular read-it-later services Instapaper and Pocket. (For some reason, neither app offers a connection to Readability, my preferred read-it-later service.) Instapaper users should be aware that Velocity requires that you have a paid Instapaper subscription while ReadQuick works just fine without.
Velocity's content browser is pleasantly clear and easy to use. It allows you to browse articles in your Instapaper or Pocket queues or access articles that you've saved directly in the app. ReadQuick's interface provides those options, and more, without adding any needless complexity. I think ReadQuick's historical progress statistics is a feature many would appreciate, and I especially like how ReadQuick displays the estimated completion time of each article at the selected rate.