Razer Edge Pro tablet--insane performance that's completely impractical
PC gaming is poised to break free from the desktop--it just needs a device that delivers fast frame rates and lush graphics in an affordable, portable package. Enter the Razer Edge Pro, a Windows 8 tablet built expressly for playing PC games on the go. The hardware even comes with an optional controller accessory that turns the tablet into a handheld game console.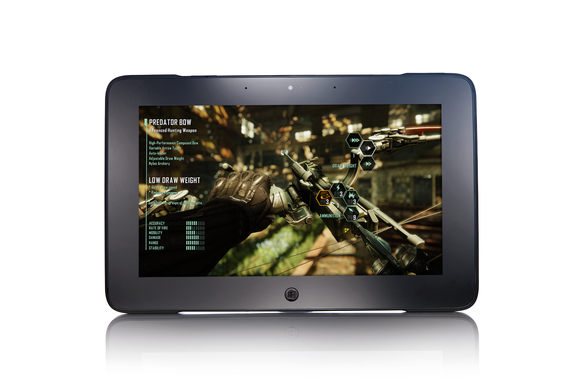 The top-of-the-line Edge Pro tablet runs contemporary PC games like Crysis 3 at playable framerates.
The premium-priced Edge Pro delivers fantastic performance that helps justify its $1450 price tag. For one, we saw 73 frames per second running Dirt Showdown at native resolution. That's more than twice what Microsoft's Surface Pro was able to deliver in the same test, and confirms that the Edge Pro is the best gaming tablet on the market.
Razer's beast also outperformed the Surface Pro, The Acer W700 and the Lenovo IdeaPad Yoga 13 in our PCMark 7 suite of productivity tests, including our Photoshop CS6 image editing tests and the 3DMark11 graphics rendering tests. Granted, the Edge Pro has a lower native resolution that the competition, and this makes it easier for the tablet to deliver high frame rates in games. But when you view all the benchmark results together, it's clear the machine is purpose-built for performance.
The flipside of all this fantastic performance is poor battery life. The Edge Pro was pitiful in our battery rundown test, burning through a full charge in just under four hours--six with the extended battery attached. Of all the Windows 8 hybrids we've tested, only the Lenovo ThinkPad Twist fared worse. And that's just in our lab tests, which are actually a little forgiving because they rely on looping video playback and automated PCMark 7 tests to drain the battery. While running demanding PC games on the Edge Pro, I routinely ran the battery dry after two to three hours of continuous play.
This presents a significant problem for real-world use: The utility of a portable gaming machine that can only run for a couple of hours is dubious at best. The brief battery life isn't an issue if you're just puttering around your Steam library from the comfort of your couch, but it's a complete deal-breaker if you're on a long plane trip or otherwise isolated from a power outlet for more than a few hours.
The 256GB SSD in our review unit was more than spacious enough to install Windows 8, a few productivity programs, benchmarking software, and a handful of games with large storage footprints (Skyrim, Far Cry 3, XCOM and Sleeping Dogs) with plenty of space left over. Even the 128GB SSD in the basic version of the Edge Pro seems spacious enough if you don't load it up with an excess of music, movies and games. The 64GB SSD in the base Edge tablet concerns us, though, given the storage requirements of Windows 8 and most modern PC games.
Accessories required
It's impossible to discuss the Edge Pro without delving into its accessories, which Razer sells separately at premium prices. Three are available at the time of this review: a $99 Docking Station, a $249 Gamepad Controller, and a $69 Razer Edge extended battery, which inserts inside the Gamepad Controller. Razer's engineers are also working on a keyboard dock, which should be available by the holidays. Its price is still unknown, but it's slated to support the extended battery.
Previous Page 1 2 3 4 5 Next Page