Raspberry Pi 2 is six times faster than Pi 1, supports Windows 10
Raspberry Pi 2 will support a custom edition of Windows 10 for the development of robots, smart devices and Internet-connected appliances.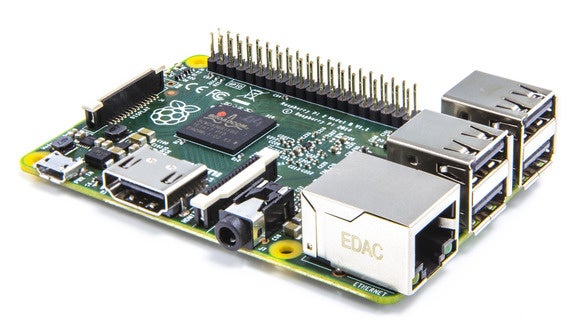 A faster Raspberry Pi 2 computer is now shipping without a rise in price, and for the first time it will support Microsoft's Windows 10 OS for the development of smart devices and appliances.
At US$35, the new computer has managed to retain the low-cost appeal of the original Raspberry Pi, which has sold more than 4 million units. Raspberry Pi 2 is also six times faster than the original computer.
Raspberry Pi 2 -- which will ship on Monday -- is an uncased computer that could be held in one hand, with all the important components on one board. The new computer is the same size as its predecessor, which spawned the development of robots, electronics, gadgets and even a Bitcoin ATM.
The Raspberry Pi 2 has a faster CPU and more memory than its predecessor, which could make it a true PC replacement, said Eben Upton, founder of Raspberry Pi Foundation.
"This is obviously fantastic news for Raspberry Pi -- in terms of performance it takes us over the line into being a 'real' PC you could use for web browsing and productivity applications," Upton said.
The faster performance will also bring new applications like computer vision to robots, smart devices, drones and other electronics. For example, the extra horsepower will allow the Pi 2 to comprehend images from attached 3D cameras, which was not possible on Pi 1.
The Raspberry Pi 2 could also improve the agility of robots and drones through faster calculations. The computer will also be faster at processing sensor data.
"I'm just incredibly excited what people are going to do...in particular in the maker community," Upton said.
Raspberry Pi 2 will support Linux-based Raspian OS, but Raspberry Pi also worked with Microsoft to bring Windows for the first time to the computer, Upton said. Raspberry Pi 2 will support a customized version of Windows 10 for embedded devices.
Users will be able to use Raspberry Pi 2 to develop Windows-based smart devices, robots and appliances. Microsoft is looking to expand in the Internet of Things market and offers development boards like Intel's Galileo and Galileo 2 as part of its Windows on Devices program. Raspberry Pi 2 may become part of that program.
Raspberry Pi 2 won't run a full edition of Windows 10, or allow access to applications like Internet Explorer or Office. Instead, developers can use the command-line interface to develop and prototype IOT devices.
"I've seen it running, it's incredible," Upton said. "I think there's a lot of potential for Windows on IOT."
Windows wasn't an option for the original Raspberry Pi in 2012 because the computer was too slow, Upton said.