Rainbow Six Siege hands-on: The most interesting next-gen shooter yet flirts with MOBAs
We check out the game's full list of Operators, plus "singleplayer" mode.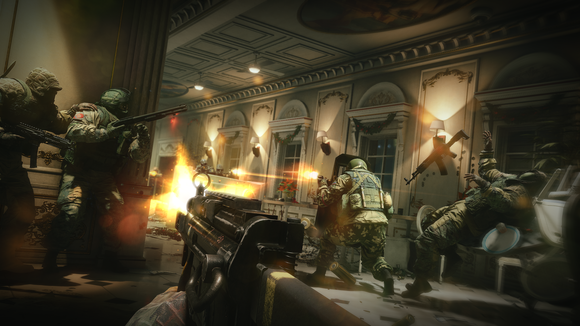 Rainbow Six Siege was originally supposed to release last week. Instead, Ubisoft delayed the game to December and brought me into their office to play five tense, swearing-filled hours. Seriously, I swore a lot.
There's not much new to look at, given the game's already gone through both an alpha and beta that were about as open as either could possibly get while still being called closed. We did check out the game's new "singleplayer" mode, as well as what I think is the full roster of Operators you can play as. Oh, and the game crashed quite a few times, which makes me glad it was pushed back.
Here are my impressions.
Singleplayer-ish
Well, Ubisoft built a singleplayer mode. Sort of.
A few months back Ubisoft said Rainbow Six Siege would not ship with a singleplayer campaign, and as far as I know that's still the case. Instead you get—and this should really not be a surprise—objectives on the same maps used for multiplayer.
The airplane level, for instance, has you hunting down and killing all terrorists on-board. Do it, and you win. Do it while fulfilling some light challenges (like killing a certain number of terrorists while leaning) and you'll get shiny gold stars!
I honestly can't imagine anyone playing this mode for longer than it takes to get used to the controls. And I don't think Ubisoft thinks people will stick around either—it was pretty explicitly demonstrated to us as an extended tutorial. Except we played it for an hour and a half, which is about an hour too long.
I don't think the AI is bad. I don't think the challenges are ill-constructed. I don't think it's too easy—quite the opposite. I actually struggled with one of the levels on Normal difficulty, with two more above that.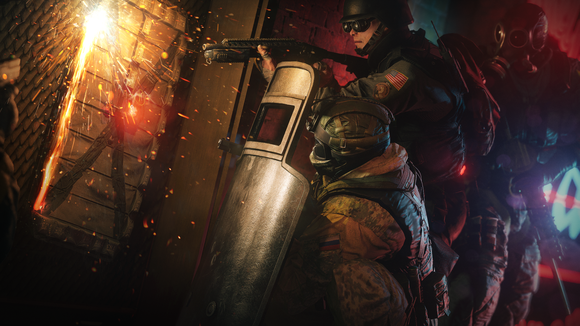 But it's the equivalent of playing bot matches in Counter-Strike. Sure, you might learn something, but it's by no means a riveting experience. Especially given that you can play the same scenarios in four-player co-op, which is exponentially more fun.
Every game's a MOBA
Singleplayer also limits you to playing as a particular Operator (Rainbow Six Siege's name for classes) on each map. The guy who senses electronics through walls is always on the map filled with C4 and crazy cultists. When trying to rescue the hostage guarded by a suicide bomber you're always the sniper. Et cetera.
Co-op and player-versus-player modes let you choose between all the Operators, split between Defensive and Offensive classes. This isn't anything new—it's been in both the game's alpha and beta.