Radeon Software Crimson is here: AMD loads next-gen drivers with killer features
With high-bandwidth memory in the bag and cutting-edge processor technology finally appearing on the horizon for graphics cards—all GPUs have been stuck on 28nm since late 2011—AMD's gearing up for a major fight against Nvidia in 2016.
Wrapping up the gaming front, Radeon Software Crimson also includes performance improvements for the latest games and various optimizations for the new DirectX 12 technology found in Windows 10. The first DX12 titles are just around the corner, folks. Linux driver performance has also been improved for many games. That's great to hear—though a bit weird, given that AMD's announced Crimson support only for Windows 7, 8.1, and 10. Linux performance is a glaring sore spot for AMD, though the new unified Linux driver architecture it's working on will hopefully alleviate the problem even further.
Beyond games
Radeon Software Crimson's new features and performance tweaks don't focus on games alone, however.
AMD's latest sixth-generation APUs gain some new video tricks. Not only will video look smoother, with less motion blur, AMD says new Advanced Detail Enhancement technology in the drivers will sharpen images further as well, building on the 1080p Detail Enhancement introduced in last year's Catalyst Omega drivers.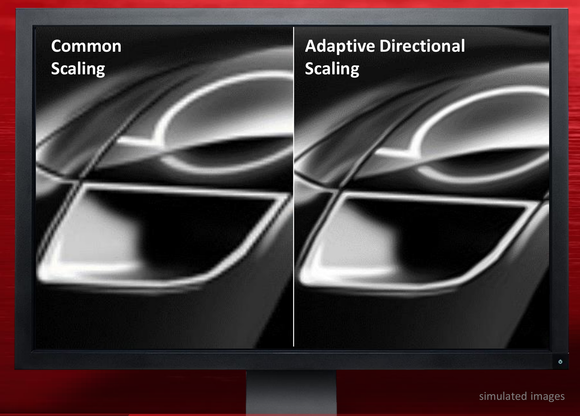 An example of scaling an image to 4K resolution without directional scaling (left) and with directional scaling enabled (right).
The AMD A8-8600P and higher APUs and Radeon R9 380 and higher GPUs pick up an updated dynamic contrast ratio algorithm, while the Fiji GPU-based Radeon Fury, Fury X, and Nano graphics cards have a new directional scaling feature that more intelligently scales 1080p and 2K imagery to fit 4K screens. The goal: to eliminate the nasty "staircase effect" common when up-scaling images to higher resolutions.
Beyond new features, Radeon Software Crimson lets you deeply tinker with your displays: setting custom resolutions, timings, refresh rates, and pixel clocks for each screen in your setup.
AMD's also investing in heavy quality assurance testing for Radeon Software Crimson. The company was already proud of the deep level of testing that went into last year's Catalyst Omega driver. AMD says it conducted far more testing than that to help ensure Radeon Software Crimson's stability, with 100 percent more automated testing and 25 percent more manual testing across 15 percent more system configurations.
All in all, AMD's doing everything it can to dispel the perception that its drivers are lacking in comparison to Nvidia's GeForce drivers. New Radeon Technologies Group head Raja Koduri has been beating the drum about the importance of software as part of the overall Radeon experience.
"Software is the first thing people see on their screen, the first part of their experience," AMD's Sasa Marinkovic told PCWorld earlier this year. With Crimson, Marinkovic added, Radeon's "software is as equally represented as the hardware."
Previous Page 1 2 3 4 Next Page