Radeon Software Crimson is here: AMD loads next-gen drivers with killer features
With high-bandwidth memory in the bag and cutting-edge processor technology finally appearing on the horizon for graphics cards—all GPUs have been stuck on 28nm since late 2011—AMD's gearing up for a major fight against Nvidia in 2016.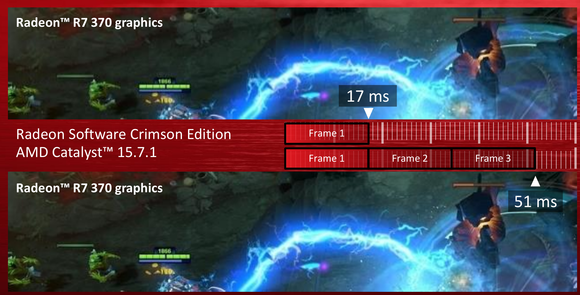 A visual representation of optimized flip queue size.
But what if you want to sacrifice speed for vastly increased power efficiency? AMD's Frame Rate Target Control lets you cap the maximum frame rate output of your GPU, so that it doesn't waste power rendering frames you won't notice anyway. (For example, when your graphics card can output 90fps in a game, but your monitor only supports 60fps.) FRTC proved wildly successful in our testing, and now AMD's bulking up the feature. Whereas before FRTC only worked with DirectX 10 and 11 games and was capable of limiting frames to between 55fps and 95fps, the new software embraces DX9 titles, and the frame rate limits are being expanded to between 30fps and 200fps. Awesome.
FreeSync, AMD's brand for game-smoothing variable refresh rate display technology, is spreading its wings too.
VRR gives you a super-smooth gameplay experience inside of predefined frame rate windows, such as 45fps to 75fps. If your frame rates fall outside those windows, the VRR isn't active, and the results can be particularly nasty below the minimum VRR refresh rate. Nvidia's proprietary G-Sync solution has long handled sub-optimal frame rates in a superior fashion, by doubling or tripling individual frames in order to maintain the smooth look without nasty flickering effects, leaning on the G-Sync module in the display for help.


What happens both inside and outside FreeSync's VRR window. Note the new behavior with Low Frame Rate Compensation. Click to expand.
AMD's striking back with its new "Low Frame Rate Compensation" technology, which uses an adaptive algorithm to keep your games as smooth and tear-free as possible under the minimum refresh window. This software-based solution probably won't work as smoothly as G-Sync's hardware-assisted fallback, but it's still sure to be a boon for Radeon gamers with FreeSync displays. (And really, it's best to tweak your games' graphics settings to stay inside your monitor's VRR window anyway.)
FreeSync support is also being extended to DX9 games, like the aforementioned e-sports titles and Skyrim. Speaking of DX9, Radeon Software Crimson also extends AMD's Frame Pacing for multi-GPU CrossFire setups to DX9 games. Multi-GPU setups are complex beasts, with each graphics card rendering every other frame in full. A few years back, that resulted in nasty stuttering on many CrossFire setups. Frame Pacing fixed that, and it's great to see it bring DX9 titles into the fold.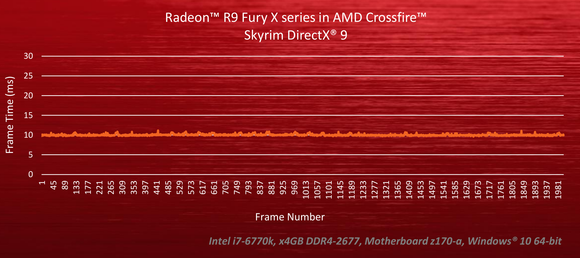 An example of the smooth frame pacing in Skyrim with CrossFire'd R9 Fury X graphics cards now that Frame Pacing is supported in DX9 games. Click to expand
Previous Page 1 2 3 4 Next Page