PSA: Don't install Windows 10 Preview on the new Surface 3 yet
The Surface 3 was just released, but it's not yet ready to run Windows 10 as Intel is still working on the drivers.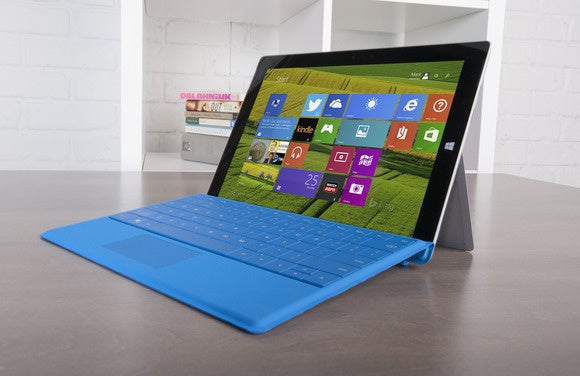 Even in this modern computing era Windows is still dogged by driver problems--at least during the technical preview phase. Owners of the newly released Surface 3 will want to hold back on installing the Windows 10 technical preview for now, as it appears Intel has yet to release Windows 10 drivers for the Surface 3's Atom processor and chipset.
"Please do NOT try to install Windows 10 on the new Surface 3. There are no drivers for the Intel x5/x7 Atom processors," Microsoft Community Moderator and Microsoft MVP Barb Bowman posted on the company's support forum. "There are no drivers in the Preview Build because Intel has not yet provided drivers."
The $500 Surface 3 uses a fresh, new 1.6GHz Intel Atom quad-core x7-Z8700. Intel does not yet have a release date for the new drivers, according to Bowman.
Since the Surface 3 (and its processor) is so new and Windows 10 is still under development, small hiccups like this are to be expected. Microsoft's newest operating system is slated for release this summer so we can expect to see drivers from Intel relatively soon.
Microsoft's latest tablet went on sale in early May after being announced in late March. The big appeal about the new non-pro Surface is that it is not loaded with ARM-processor compatible Windows RT. Instead, it's a full Windows slate compatible with all legacy desktop apps, as well as modern UI apps.
The Surface 3 features a 10.8-inch 1080p display, your choice of either 64GB storage with 2GB RAM, or 128GB onboard storage with 4GB RAM. It also comes with one USB 3.0, mini Display port, microSD card reader, 802.11a/b/g/n/ac Wi-Fi, and Bluetooth 4.0.
The impact on you at home: Windows 10 is an exciting update to Microsoft's OS, especially if you're running Windows 8 or 8.1. Unfortunately, Surface 3 owners chomping at the bit will have to wait a little bit longer--at least if you want to remain on the safe side.
Some users in the same forum thread where Bowman posted her warning say they are able to run Windows 10 using newly updated Windows 8.1 drivers recently posted on Microsoft's site, albeit with degraded graphics performance that make the combination "not suitable for daily use quite yet." Check out the forum for more information, but remember it's still a risk to install Windows 10 on the Surface 3. Reckless souls can check out our primer on installing Windows 10 and how to create a dual-boot set-up with Windows 8.1.
[via Windows Central]