Private I: Knock twice to see the future of the Apple Watch as a security device
Knock has extended from the iPhone to the Watch to let you unlock your Mac with a tap. This is more of what the future will bring.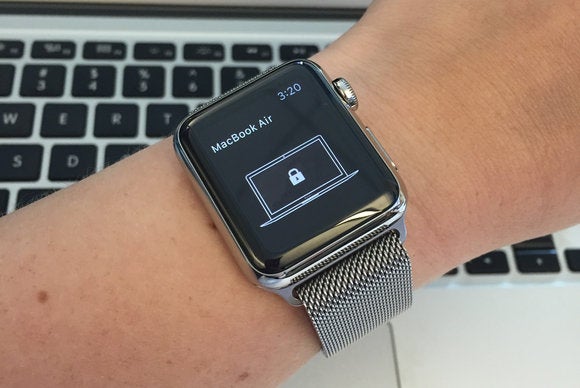 The Knock app was always a simple and nifty idea. Install a bit of software on your Mac and then purchase the company's $5 iOS app. Using Bluetooth 4.0 to communicate, whenever your Mac was manually locked or via a timed setting, you can launch the Knock app or swipe a notification, and then knock twice on the screen.
While Knock isn't a two-factor security system as such, it relies on the notion that if you're the sort of person who locks a Mac, you're also likely to lock your iOS devices and carry them with you when you're away. Thus, the odds would be pretty low that someone could gain physical access to your iPad or iPhone and be able to unlock it to then use Knock to unlock a Mac in a cascading security failure. Further, because it requires Bluetooth, not an Internet connection, you have to be close to the Mac while using the associated iOS device.
The app also lets you lock your Mac with a tap in the iOS app, increasing the likelihood that you'll keep your computer locked down. Knock can also be set to use Touch ID on devices that support that feature, which shifts access to a biometric factor, requiring both the hardware and a finger. (Why lock your Mac? If you're concerned about theft or snooping roommates, or you're a parent who doesn't want a child to have unfettered access--or vice-versa!)
Knock's latest move is to extend itself to the Apple Watch, where it's a natural fit. And it's one of several apps related to security and access that were immediately available after the Watch's launch. This category of apps reveals more of the potential of what the Watch can offer as a hub of your identity.
Because the Watch locks when it senses it's been removed from your skin, it provides effective security whenever you aren't wearing it or if it were literally ripped off your wrist or otherwise stolen. (Touch ID offers the same sort of protection whenever an iOS device is put on standby or goes to sleep.)
Who's there?
Knock's Watch support comes in the form of notifications, a glance, and an app. (Knock currently only supports a one-to-one connection for a Mac and an iOS device.) When a Mac is locked, your associated iOS device and Watch can receive a notification. On the Watch, tapping the notification launches the app, while the glance shows the status and likewise when tapped launches the app. The app shows your Mac's current status and lets you lock or unlock with a tap.