Price of round displays will make or break Moto 360's mainstream success
Motorola's planning a bold look for its smartwatch based on Android Wear. But will a circular form factor drive up the cost?
Making the case for a round smartwatch
Assuming that wearable devices with round displays can be just as cost-effective as squared ones, the round smartwatch could emerge as the ideal form factor for wrist-worn wearables. As someone who has worn both squared and circular watches, I found that round devices are both more comfortable to wear and look better than squared ones. Motorola went out of its way to make this point in its Google Hangout Wednesday, noting that squared devices tend to poke into your wrist bones and create an uncomfortable experience.
Of course, the round form factor faces its own set of challenges. By their nature, circular displays cut off the corners of content and multimedia since most content is formatted for square or rectangular displays. To mitigate this, the OS powering the device must account for the limitations of the form factor, creating an experience that fits the circular display. The Aura's OS didn't do this, and several reviewers noted that navigating the Aura UI was an unpleasant experience and a waste of the Aura's gorgeous display.
In an early look at Android Wear OS, Google appears to be getting it right by pushing content that makes sense to digest on the smaller smartwatch displays in a way that is visually appealing regardless of a device's shape. In fact, Motorola claims that you actually get more viewable surface area with the 360, since the display is both taller and wider than traditional squared screens.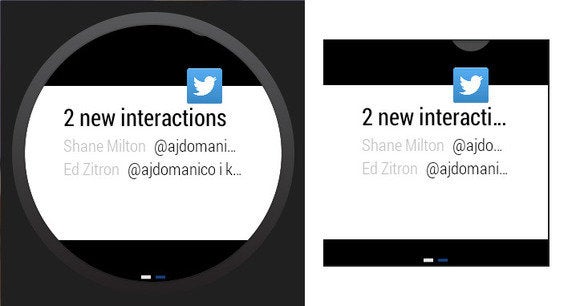 Using the Android Wear emulator, we found that a curved display (left) squeezes in a bit more information that what you'd see on a square screen.
Yes, rounded displays will still cut off the edges of contact pictures, for example, but Google Plus users will already be accustomed to that, and it doesn't really detract from the overall experience. In our time with the Android Wear emulator, we confirmed that the curved displays provided a bit more information than the squared ones, which, when coupled with the added comfort and more polished look of such devices, makes a compelling case for the round form factor.
Circle gets the square?
Should the manufacturing process actually yield cost-effective Android wearables as Motorola and DisplaySearch contend, the Moto 360 may well usher in a new era of rounded wrist-worn devices. The UI experience is certainly preferable, at least in emulator form. And the added comfort and elegance of a circular time piece suggest that this form factor could win out in the end.