Portrait of a Bitcoin miner: How one man made $192K in virtual currency
Who, exactly, has the pioneering spirit to "mine" the virtual currency, converting CPU and GPU cycles into something of real-world value?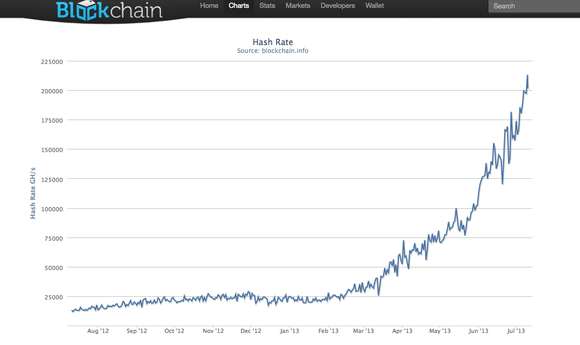 This chart from Blockchain.info shows the growth in Bitcoin hash rates-the computing power being used to generate the currency.
It's because of this growing mining pool and the new technology that Eric is moving on from mining. He went back to work, and is in the process of selling his GPU mining rig. He doesn't think he's out of the game forever, though. Eric says he would like to buy an ASIC miner when they're more widely available--when "their return on investment isn't as ridiculous as it is now."
But why put in so much energy and money for a currency that may not hold any value in the long run? Though Bitcoin is gaining some traction now, it's hard to predict how much of an effect these crypto-currencies will actually have on a standard economy.
"It's too early to tell which alternative currency will become the dominant medium-to long-term player," Garrick Hileman, an economic historian at the London School of Economics, told TechHive. "On Bitcoin, my own assessment is that, over the longer term, it offers more potential as a store of value than as a widely used medium of exchange due to its capped supply and propensity to be hoarded."
Eric agrees. "When the day comes that Bitcoin has its own set value, it will be more poised to complement national economies," he said. Currently, Bitcoin is valued at whatever people decide they want to trade for it.
Because it is decentralized, it could also prove to be valuable in case your native country's economy tanks. "Bitcoin is a good hedge against bad economic times ahead," Eric said. "Everyone should own some. It might be the only thing between you and the red line."
Previous Page 1 2 3 4