Portrait of a Bitcoin miner: How one man made $192K in virtual currency
Who, exactly, has the pioneering spirit to "mine" the virtual currency, converting CPU and GPU cycles into something of real-world value?
To combat the heat, Eric got a little crafty: He integrated a cooling system with his backyard swimming pool, pumping water out of the pool and through a radiator to cool down the rig. "The pool-cooling was experimental and definitely not standard," he said. "Most miners didn't bother with water-cooling at anything beyond small scale, like a dual-purpose gaming machine."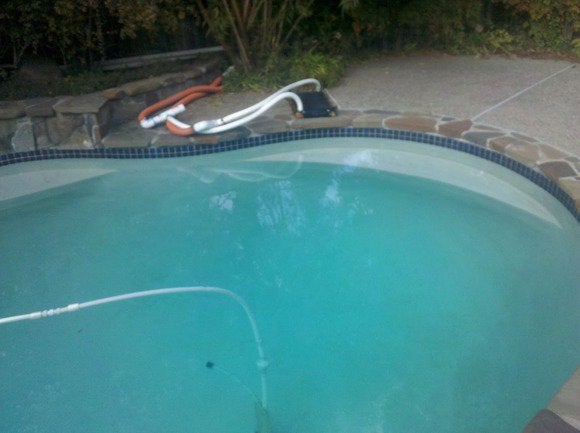 Eric built a custom cooling system using water from his swimming pool.
Eventually, Eric's massive rig included four PCIe graphics cards that continuously chugged along, running the Bitcoin algorithm. He always operated within a mining pool--a group of miners that work together to find a block. When a block is found, the bounty is distributed among all of the miners within that pool. Different mining pools have different payout systems: Some divide the coins up evenly, while others divvy them up based on who put in the most amount of work.
"It's hard to know if you're being paid appropriately for your work," Eric explained, "I pool-hopped for a couple months to level the playing field, but I don't know if it made much of a difference."
Thanks to his experimental rig with a high output rate, Eric was able to turn a profit with Bitcoin mining--a rare feat, considering the investment he put in. But today his rig is nearly worthless. Application-specific integrated circuits-- ASIC miners for short--were introduced in early 2013, and these microchips were created for one purpose, and one purpose only: to mine Bitcoins. ASIC mining rigs are smaller, faster, and consume considerably less energy than GPU mining operations like Eric's.
However, ASIC miners hit the shelves just as Bitcoin was gaining some interest with the general public. It was moving out of the nerdy shadows and onto the pages of Forbes and Vice. The ASIC mining hardware is selling fast, and isn't widely available, but promises a ridiculous payout. Indeed, the first few ASIC miners paid for themselves in a matter of days. (Some have a selling price of $20,000.)
The future of mining
The mining community is vast, and growing every day. But newer miners to the scene will have a problem turning a profit, even with a top-of-the-line ASIC miner.
"Unless you started mining early, you're going to fail," said Eric. This has to do with the sheer volume of miners (competition is fierce), combined with a peculiar quality of the Bitcoin algorithm: It's designed to make Bitcoins more difficult to create as more and more miners try to find them. A block of coins is rewarded roughly every 10 minutes, so the difficulty is dependent upon how many miners are involved. The reward also halves itself every four years, so when Eric began mining, the payout was 50 bitcoins per block, but now it's down to 25. This insures a steady trickle of currency. It also insures that new miners will have a much smaller jackpot--and hit that jackpot less frequently--than those who got in early.
Previous Page 1 2 3 4 Next Page