Plex: Hey, it's not just for pirates anymore
You don't have to skirt the law to take advantage of Plex. Here's how to use the popular media server software—even as a law-abiding cord cutter.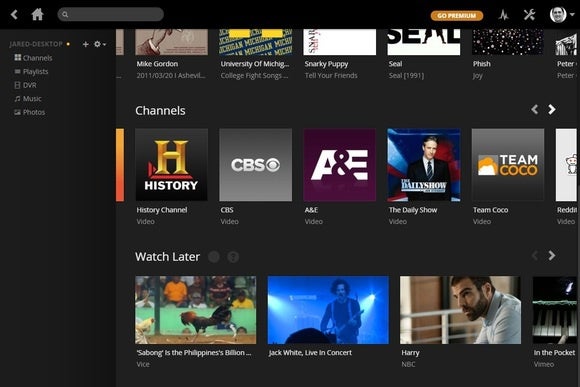 Plex doesn't exactly hide the fact that it's a killer app for pirated video. Just look at the marketing materials for the media server software, and you'll see how easy it is to stream your collection of movies and TV shows to all your devices. The open secret is that you probably can't acquire that kind of video collection without downloading from BitTorrent or ripping your DVDs or Blu-ray discs (circumventing copy protection is either against the law or fair use of discs you purchased, depending on your perspective).
Hey, I'm not here to judge. But I was interested to see if Plex could be a valuable tool for law-abiding cord cutters as well. After playing around with the software and asking some kind folks on Reddit, I've found some legal uses for Plex that are worth checking out. Now that Plex has revamped its Roku app, it's a fine time to take another look.
Plex basics
Plex is actually two programs in one. On one end, there's the media server software for desktop computers, which serves up your videos, music, and photos to other devices on your local network. (There's also a separate version for network-attached storage drives, which typically run on some flavor of Linux.) Install the app, tell it which folders you want to share, and Plex automatically makes those files available to other devices.
That's where Plex's client apps come in. Download the Plex app for your phone, tablet, or set-top box, and you'll easily be able to view your computer's media over a local Wi-Fi network.
Plex's media server software is free, but the company charges $5 for most of its client apps. Plex also has a $5-per-month subscription service, called Plex Pass, which offers features such as cloud streaming, managed user accounts, and offline viewing on phones and tablets. Fortunately, a subscription isn't necessary for the uses we'll discuss here.
Tapping into web video
One of the best ways to use Plex legally is as a source for online video. Plex offers several "Channels" from sources like Comedy Central and The Food Network. So even if your Roku or Fire TV Stick doesn't have apps for those channels, Plex has you covered.
Setting up Plex Channels is fairly easy. Just right-click on Plex in the system tray on your PC, and then open Media Manager. Head to the Channels section from the left sidebar, and click Install Channels.
Here some channels that I recommend:
CBS
Comedy Central
Food Network
HGTV
History Channel
Nick Jr.
PBS
SoundCloud
South Park
The CW
Team Coco
The Daily Show
Twit.TV
You don't have to limit yourself to video from Channels, however. Using another tool called Plex It, you can bookmark videos from around the web, letting you watch them later on your TV. This is especially useful for video sites that don't have a TV app available, though it doesn't work on some big ones like Hulu.