Plair plays Web content on your TV, but needs more work
There's a ton of streaming video content on the Web, but I think most of us would agree that it's a more enjoyable experience to watch that content on a TV rather than a computer display. At least that's what Plair Media is hoping with the release of its $99 eponymous video streaming stick.
From your mobile device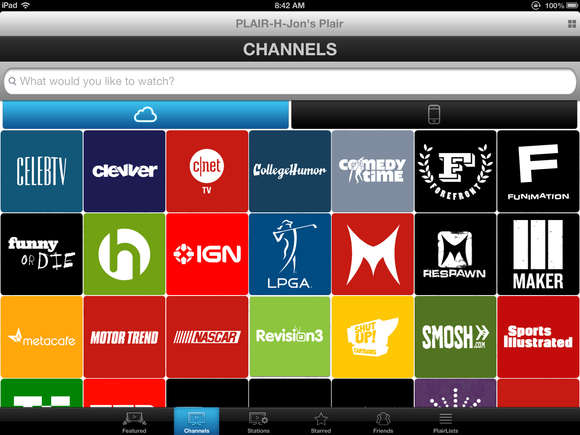 Channel selection on the iPad.
On mobile devices, you have access to a more limited set of content, although the company is planning to release an API for other content providers who want to add Plair support. As a test, a few coworkers and I enjoyed "Watch Rachel Dratch Run The Julia Roberts Obstacle Course!" from the Funny or Die website, as beamed from my iPhone 5 to the HDTV in our lounge. To control playback, you pinch out on your mobile device's screen to bring up a set of remote controls. Pinching in gets rid of the remote.
As with on the computer, you can send photos and video directly from your iOS or Android device to your TV. After selecting a bunch of images, I was able to watch a slideshow of pictures I took with my wife on a hike at San Francisco's Lands End. Swiping the iPad's screen advanced easily to the next slide (although, oddly, starting the photo playlist flipped the orientation on my iPad's screen for no apparent reason).
I also tried sending both iPhone 5- and third-generation iPad-shot 1080p videos from my respective devices, and was informed they were "too large to beam" and needed to be optimized first. During the process, the app crashed on both devices. After a relaunch, the videos played on from the iPhone, but the iPad app crashed repeatedly and I couldn't get it to work. The company told me it found a bug that it plans to address in this area. (I didn't try out the Android app for this review.)
Bottom line
The Plair is an interesting concept, but in its current form too buggy for primetime. When it worked, it was pretty cool. But unfortunately it was pretty much hit or miss. Although I understand the company is going after a less tech-savvy person than your typical set-top box user, for most people the same money would be better spent on an Apple TV or Roku 3.
Previous Page 1 2 3