Pingraphy lets you schedule your future Pinterest pins, get stats
Social media is important for self-promotion on the Internet, but nobody can stay up 24 hours a day to post updates. This is why Pingraphy becomes an essential service.
Social media is popular, but needs to be taken in small doses. Nobody wants to be bombarded with lots and lots of status updates and photos all at the same time. When posting your items to a social media site, it is good practice to spread everything out over a 24-hour period. Services such as TweetDeck help us do this for Twitter, but Pinterest is a different matter. But unless you are the world's biggest insomniac, you are going to need a service such as Pingraphy to help you out.
Pingraphy is a Web service that enables you to log into your Pinterest account and schedule images to automatically be posted on a set schedule in the future. There is even a bookmarklet you can use which, when clicked, will pull all of the images from a webpage and then send them to Pingraphy for you.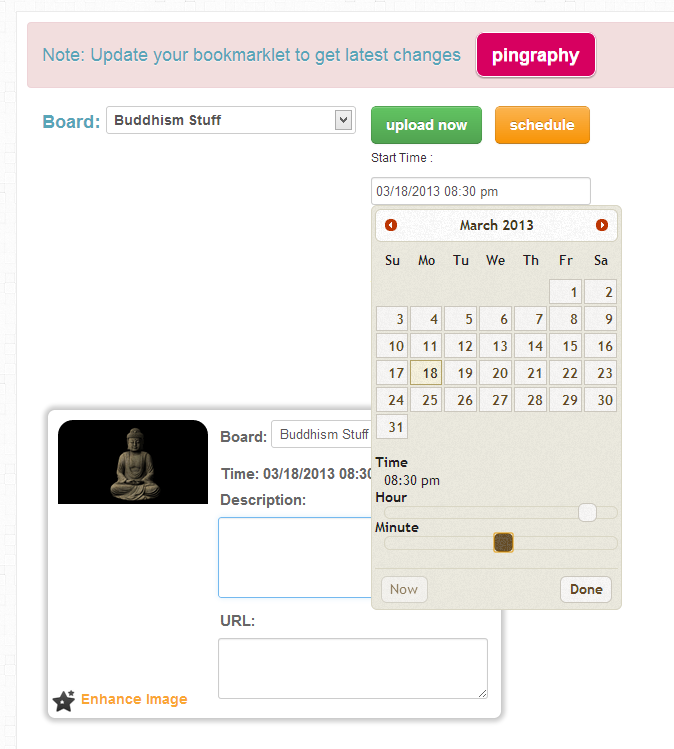 Once your image has been uploaded, select the date and time you wish it to go out.
But first, you need to log into Pingraphy using your Pinterest credentials. Unfortunately this involves giving Pingraphy your password. As of this writing, there is no way to sign in with a permissions system which can be revoked later, similar to Google Accounts or Facebook. So you have to decide if you are comfortable giving out your Pinterest password.
This is where one of the drawbacks of Pingraphy becomes readily apparent. There is no function to revoke the website's access to your Pingraphy account, which means the only way to block Pingraphy is to change your Pinterest password.

The dashboard gives you an excellent overview of which pins are scheduled to go out and when, as well as which ones have recently been published.
Assuming you are OK with revealing your password and you have logged in, you will then be invited to drag the bookmarklet up to your browser toolbar. When clicked on a webpage, the bookmarklet will pull all of the images into a clickable list and you can choose which ones you want to be scheduled to get pinned in your Pinterest account.
Also, as part of the setup, you are provided with a calendar and sliders so you can specify the exact date and time the first pin should go out. You then specify your timezone and the interval (in minutes) between each pin going out. So theoretically you could schedule pins days, weeks, even months ahead if you want to. Perfect if you are going on holiday or if there will be an event which will necessitate you being away from the computer for extended periods.