Pillars of Eternity: The White March Part Two review: An incredible, apocalyptic finish
The White March's second half salvages the slow pacing of the first and ultimately redeems Pillars of Eternity's expansion.
And the issue is...Part One still exists. In order to get to The White March Part Two you'll need to plod through ten or so hours of first-act fluff. Is it worth it? I think so. But you may value your time in an RPG differently.
Regardless, Obsidian should be commended for minimizing re-traversal in The White March. I half-expected to spend Part Two double-speeding through the same areas as last time, fighting new enemies on the same ol' maps. A few pull double-duty—namely Stalwart and parts of Durgan's Battery—but in general you're exploring untouched areas of the White March region, from long-forgotten abbeys to military forts.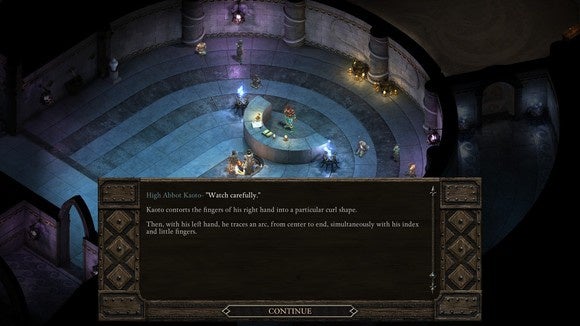 As far as raw numbers, I count five or six major new areas and one new companion (Maneha, a barbarian). There are also the usual handful of unique weapons, smaller tasks, et cetera, though nothing quite as big as the raft of new features in Part One. Perhaps the biggest change from a mechanical standpoint is (once again) to spellcasting—wizards/druids/priests/et cetera now "Master" certain spells, meaning they can be cast once per encounter without taking up a slot in your grimoire. The tradeoff is that lower-level spell tiers don't just recharge uses out of combat anymore, as far as I can tell.
But these are small tweaks, and they rightfully play backup to the story this time around—a story that builds to a climax that's honestly as good as anything in the main Pillars of Eternity storyline. Perhaps better, given The White March's shorter overall length. I clocked the second half at ten hours, bringing the expansion to twenty hours total. Not too shabby.
Bottom line
For those of you who skipped the spoilers: I (with some caveats) like it. The White March has its issues—pacing problems in the first half, an over-reliance on huge groups of enemies in the second, and three companions who aren't given enough time to breathe before their quests are over—but it's a solid expansion with some incredible moments sprinkled throughout. I still think it's a better piece of content if you encounter it organically during your first Pillars of Eternity run, but both halves combined are a pretty good argument for end-gamers to dive back in. For a short while, at least.