Photoshop Touch brings hardcore image editing to iOS and Android
Photoshop Touch 1.4.1 brings the power of Photoshop image editing to mobile devices.
Additional controls reside within those tools, such as on-off buttons for anti-aliasing or edge awareness, and each tool opens its own context sensitive menu. Brush sliders let you adjust size, hardness, flow, and opacity. The clone stamp has a little source icon.
What's missing? There's no Move tool, but you can substitute with on-screen gestures. There's no Magnetic Lasso tool, but the polygon tool could serve that purpose. There are no slice tools, content-aware move, patch tools, Dodge and Burn, straightening or red-eye removal tool. And there's no Grabber hand, something I really missed. The tablet version has a Full Screen view, which is nice, but there are no editing tools available in that mode, so it's strictly for observation, which is a little disappointing.
Menus
Lining the top of the screen are the pulldown menus. The Adjustments and Effects menus cram the most used Photoshop controls into the mobile version. A neat and colorful arrangement of adjustments feels friendly. Don't expect an exact replica of the desktop version's functionality. For the Curves adjustment, for example, there are no presets, but you can still manipulate the curve itself. Most adjustments have one or more sliders to manipulate your results.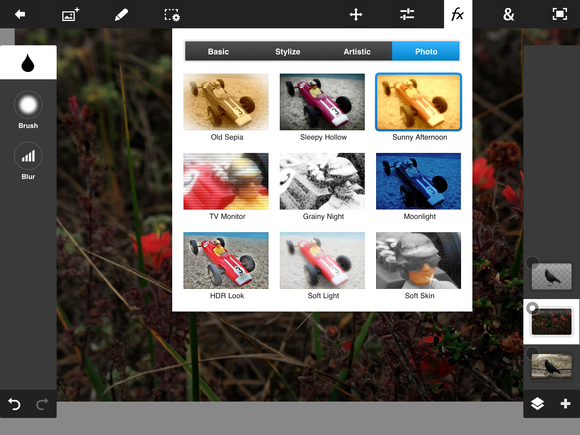 Special effects and filters have been merged into a single menu for space. Photoshop experts will recognize this.
Though it's tempting to characterize the FX as just a rendition of Photoshop's filter gallery, it's far from it. The FX menu has a similar layout to the Adjustment menu, colorful renditions of each available effect, divided into four tabbed categories: Basic, Stylize, Artistic, and Photo. Photoshop's desktop effects are not the greatest, so I'm not surprised that there is little unique to offer with the mobile versions. That's kind of disappointing, since Adobe could have taken the opportunity to offer some unique filters here. If you're set on using effects, import your picture onto the desktop and work on it there. Or better still, use Camera Awesome or Instagram to stoke your filter madness.
Photoshop Touch got the main Apple touchscreen gestures fairly well, so to zoom out, you place fingers on the glass and spread, and then pinch to shrink. Tap to select an object, depending on which tool you choose, but a double-tap doesn't automatically enlarge the image to fit into the window. Similarly, simply clicking and dragging on an image does not move it, as you'd expect. You have to place two fingers on the image to move it.
Creative Cloud
The connection to Creative Cloud worked well, generally, but I found syncing between devices and the Cloud failed intermittently. If you upload an image to your Creative Cloud account and sign in from another device, you should be able to connect with that image from either another mobile device or from your computer. In practice, this worked most of the time, but not all the time. Setting up syncing controls from the mobile device helped, but there was often an image or an update that I couldn't see on my mobile devices for an unspecified period of time.
Previous Page 1 2 3 4 Next Page