Photoshop Touch brings hardcore image editing to iOS and Android
Photoshop Touch 1.4.1 brings the power of Photoshop image editing to mobile devices.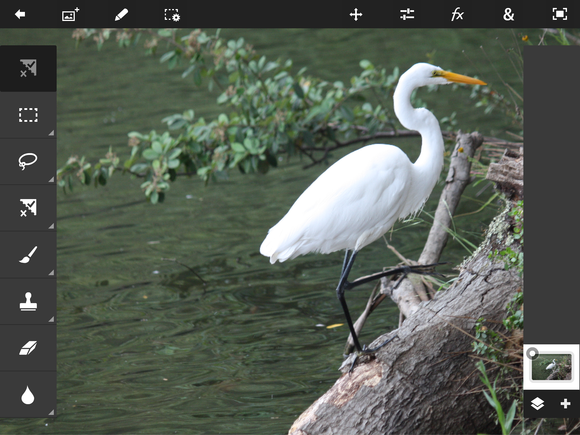 The key to deciding whether to download Photoshop Touch, Adobe's mobile image-editing companion to its desktop behemoth, hinges on your answers to a couple of quick questions: Are you already a Photoshop user, and are you interested in Photoshop Touch primarily for sharing images on social networks?
If the answer is yes to the first question, then you're halfway toward making Photoshop Touch part of your mobile arsenal. But if the answer to the second question is also yes, you might want to step back and consider a simpler app for images you want to share on Facebook or Twitter. These would include Adobe's own Photoshop Express, or any number of similar image-editing filter factories such as Snapseed, Camera Awesome, and Instagram.
Photoshop Touch is a full-service photo editing app. It's available on the iPhone, iPad, and legions of Android smartphones and tablets, and is really most appropriate when you need to do heavy lifting on one of those devices.
Two versions, both solid
There are differences between the tablet version ($10) and the smartphone version ($5), but they boil down mostly to screen real estate. For Creative Cloud subscribers, Photoshop Touch is already included in the package deal.
All mobile controls are present on the phone version, but you may have to poke around to find them. The interface and performance on my iPhone 5 and my Samsung Galaxy Nexus were identical—and impressive. In fact, apart from opening or saving large files, there is very little wait or lag time on any of the devices I worked on, including second- and third-generation iPads. I didn't experience a single crash.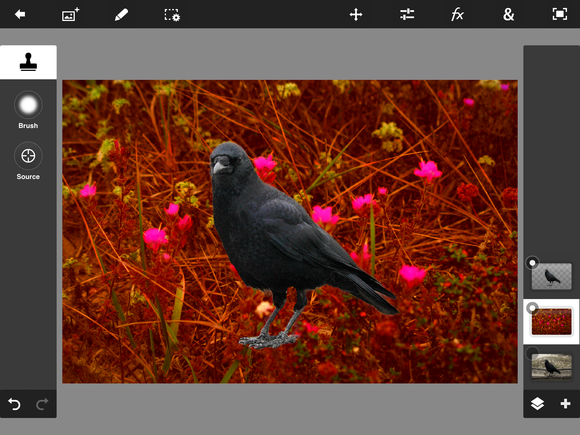 Photoshop Touch for iPad offers a comparatively luxurious amount of screen real estate compared to the iPhone version.
The iPad's tutorials—programmed learning modules with step-by-step instructions on how to accomplish a goal—are short and designed to showcase the app's major features. There's a more basic and abbreviated help module on the phone version. With Google on my iPhone or iPad, it's easy to look up how to do just about anything in Photoshop Touch, though you do have to exit the program. Overall, I'd like to see an overhaul of the help section so that users of both versions get more step-by-step narrative as well as searchable results.
Image editing
Photoshop Touch supports images up to 12 megapixels, and the number of layers you can create depends on image size.
When you dive into the app and start giving the tools a workout, you'll find Photoshop Touch lets you crop and resize images, adjust exposure, sharpen, and even do some compositing work by separating foreground from background and combining images together. The Undo control is conveniently located.