Pebble Time Round is a simple, circular smartwatch for smaller wrists
Pebble's power-sipping e-paper display allows for a watch that's much slimmer than the competition.
The Pebble Time Round also has the same microphone as its smartwatch siblings for taking voice notes. Pebble is working on an API for voice, so third-party apps can take advantage of this feature.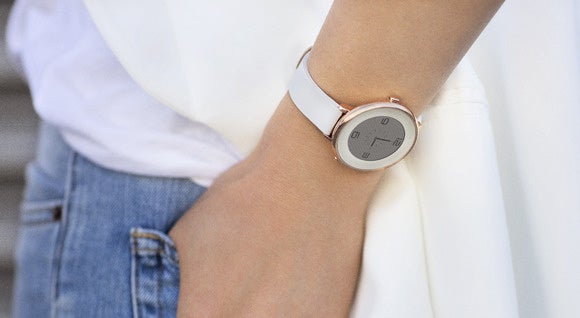 The Pebble Time Round in rose gold—with a 14 mm strap for a smaller wrist. Credit: Pebble
Still, Pebble did have to make a couple of sacrifices—the biggest of which is battery life—to shrink the Pebble Time Round down to size. While the larger Pebble Time and Pebble Time Steel last up to one week on a charge, the round version will only last a couple of days. To compensate, the Pebble Time Round does have a quick charger that restores a day's worth of battery in 15 minutes. The idea, Migicovsky said, is to wear it throughout the day (and night, for sleep tracking), then hook up the charger during your morning routine.
The Pebble Time Round also isn't as water resistant as its predecessors. It should survive a run in the rain, but showering or swimming with it isn't advised. The base model uses a leather strap, which probably shouldn't get too wet anyway.
Pre-orders for the Pebble Time Round started yesterday, priced at $250 with a leather band. The 14 mm version will come in black, silver, and rose gold, with an optional metal mesh strap, while the 20 mm version will come in black and silver. Pebble is planning to ship the watches on November 8.